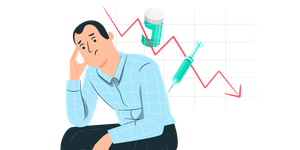 Living with Diabetes
How Can I Get Diabetes Medication Discounts?
01/12/2023
Treating diabetes with medication can be very costly, especially when they have to be taken for a lifetime. There are some options available to help save on insulin and medication for diabetes. See how you can get diabetes medication discounts with Inside Rx.
Treating diabetes can be extremely expensive, especially for those without insurance or whose insurance only covers part of their medication. Living with diabetes usually requires prescription medication. If left untreated or medication is not taken regularly due to high prescription costs, diabetes can cause further health complications.
Finding a diabetes medication discount could help ease the stress surrounding the cost of treatment.
Commonly Prescribed Diabetes Medication
There are two main types of diabetes: Type 1 and Type 2. Types 1 and 2 have similar symptoms, require many of the same kinds of medication to manage and share potential severe complications if left untreated.
If you have type 1 diabetes, your doctor will likely prescribe insulin. Delivered in the form of daily injections, insulin controls blood sugar levels by preventing the liver from producing more sugar and helping move sugar into cells where they can be used as energy.
If you have type 2 diabetes, your doctor may or may not prescribe insulin. They will likely advise you to make modifications to your lifestyle as well as take oral medications such as:
Metformin
Acarbose
Pioglitazone
Exenatide
Alogliptin
Canagliflozin
Cholestyramine
Bromocriptine
Managing Diabetes When Medication Is Costly
While a healthy lifestyle helps, medication is necessary to control blood glucose levels in people with diabetes. With both, people with diabetes can help prevent dangerous complications and unpleasant symptoms so they can live full, active lives.
However, getting medication isn't as easy as it should be. The price of diabetes drugs has gone up in recent years, creating a huge financial burden on many people with diabetes who have to pay for them out of pocket. Insulin, in particular, is now prohibitively expensive for many: The price of the drug has nearly doubled between 2012 and 2016.
The situation is alarming. A study by Yale researchers found that 14 percent of those who use insulin shots spend 40 percent of what's left of their income after paying for food and housing on insulin. For many people, it's often a choice between buying insulin or paying the bills.
What's more, a report by Commonwealth Fund found that un- and underinsured are more likely to pay the full retail price of insulin than those who are privately insured or on Medicaid. They are also more likely to use older, less effective versions of insulin.
Meanwhile, oral medication for diabetes, such as metformin, may not be as expensive as insulin. The costs still add up, especially since people with diabetes are likely to take these medications for years.
Reduce the Financial Burden of Diabetes Medication With Help From Inside Rx
The U.S. Congress continues to push for reform in insulin pricing. In the meantime, people with diabetes are looking for ways to save money on insulin and other diabetes medication. Fortunately, there is such a thing as a diabetes medication discount. Inside Rx is a discount card that helps users save up to 80 percent on brand and generic medications.
There's no cost to use the Inside Rx discount card - it's completely free. Unsure if your medication is eligible for a discount? You can use the Inside Rx website or mobile app to search for your medication and check for the lowest prices on your medications at the pharmacies in your area.
To check for a diabetes medication discount using Inside Rx, simply enter the name of your medication in the search box on the home page and input your location. Hitting "search" will pull up a list of pharmacies near you and the lowest prices they can offer on your medication.
You can further refine your search by brand name or generic.
To claim your diabetes medication discount, you'll need to present your Inside Rx discount when you pick up your prescription at the pharmacy. You can get one by:
Instantly downloading it directly from the website.
Requesting your discount card to be sent to you via text or email.
Downloading the Inside Rx app from the App Store or Google Play.
If you prefer having a physical copy of your discount card to keep in your wallet or purse, you can print out your digital savings card.
Who Can Use the Inside Rx Discount Card?
You and your family members can use the Inside Rx savings card to get a diabetes medication discount. You can also use it to save money on other medications as long as you have a valid prescription. However, some age and benefit restrictions apply.
Individuals aged 65 and older may not be able to get discounts on some medications. Likewise, discounts might not apply to some medications if you are covered by Medicare, Medicaid or other federal- or state-funded benefit programs.
You can view our discount restrictions page and FAQs page for more information. Alternatively, you may reach out to our customer care department if you have more questions.
Pharmacies We've Partnered With
Inside Rx helps you secure the best rates possible for consumers by working with a vast network of pharmacies as well as pharmaceutical companies. We've partnered with more than 60,000 retail pharmacies to ensure our consumers have access to affordable prescription medication wherever they are in the U.S. or Puerto Rico.
Some popular pharmacies we've partnered with include:
Walmart Walmart is a retail chain known for its competitive prices and wide range of products. Walmart pharmacies are located inside the stores. When you pick up your prescription for diabetes medication, like miglitol and metformin, make sure you have your Inside Rx card with you.

Costco While its warehouses are members-only, you don't need to be a member to have your prescription filled at its pharmacies. Use your Inside Rx card to help get lower prices on alogliptin and other diabetes drugs at any of their participating locations.
You can also use your Inside Rx discount card at local community pharmacies. To check if your pharmacy is part of the Inside Rx network, search for your medication and location in the search box on the website. If your pharmacy accepts Inside Rx savings cards, it should be in the search results.
Gain Access to Essential Diabetes Medication Discounts
Medications for diabetes treatment often must be taken for several years and, in some cases, a lifetime. Stopping medication abruptly, spacing out doses or splitting doses in half can cause your blood sugar levels to rise to dangerous levels. However, some people are tempted to do this in order to save money.
At Inside Rx, we're committed to helping make diabetes medication and other prescription drugs more accessible to everyone. If you pay out-of-pocket for diabetes medication, whether you're underinsured or uninsured, consider trying Inside Rx. Our discount card may help you ensure a steady supply of the medication you need to stay healthy at much lower prices than retail.
Download your Inside Rx savings card today, or drop us a line if you have any questions.
Sources: