Living with Diabetes
The Importance of Diabetes Medication
10/07/2020
More than 50% of Americans with diabetes are prescribed an oral medication. While you may feel better after taking your diabetes medication, that doesn't mean you should stop taking it.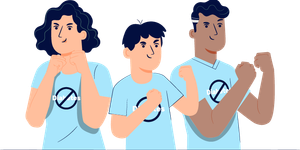 Many people with diabetes don't realize the importance of diabetes medication. But, it's one of the most essential parts of treatment to keep your blood sugar (glucose) in check.
Many of the problems that stem from diabetes tend to fly under the radar. This is because complications, like kidney disease and nerve damage, take time to develop. The American Diabetes Association (ADA) recommends staying on top of your oral medications and insulin as well as an appropriate diet and exercise plan. Otherwise, you could be at risk for other medical conditions.
It's important not to overlook the importance of diabetes medication. Fortunately, the cost of getting your medications doesn't have to be an obstacle. You can find discounts on diabetes medications with a free prescription discount card. Search for your medication through the Inside Rx pricing tool and you'll be shown the cheapest options available at your nearest pharmacies. The Inside Rx card may be able to save you up to 50% on brand name diabetes medications.
Complications of Diabetes
Disease of the Heart and Blood Vessels
Too much sugar in the blood can damage the heart and blood vessels. High blood sugar is also linked to high cholesterol (hyperlipidemia), a major part of cardiovascular disease. While many people with diabetes don't show signs of high cholesterol, almost 60% to 70% of people with diabetes have abnormal cholesterol levels. The risk of stroke in people with diabetes is double that of people without diabetes; however, medications like metformin have been shown to reduce this risk.
Nerve Damage
High blood sugar can damage your nerves, which can cause problems with how your nerves send messages. Also known as diabetic peripheral neuropathy (DPN), nerve damage affects up to 50% or more of adults with diabetes. Symptoms of nerve damage mainly include numbness or tingling in the hands, legs or feet. Other symptoms include nausea, dizziness and sexual dysfunction.
Kidney Damage
It's also good to know the importance of diabetes medication as it applies to kidney problems. If diabetes is not controlled with medication, the tiny blood vessels in your kidneys can become damaged. Kidney damage can affect how well the kidneys can filter out toxins in the body. In turn, kidney damage can lead to kidney failure, which may require permanent dialysis or a kidney transplant.
Eye Disease
Compared to people without diabetes, those with diabetes are more likely to experience eye problems (diabetic retinopathy). The CDC estimates that from 2010 to 2050, the number of Americans with diabetic retinopathy will double from 7.7 million to 14.6 million. Without proper use of diabetes medication, high blood sugar can damage the blood vessels in the eye. Infections
People with diabetes are more vulnerable to developing infections. High blood sugar can weaken your immune system and lower its ability to fight off bacteria and viruses. Diabetic foot infections (DFIs) are common in people with diabetes, especially if they are older or have other medical conditions. These foot infections could become serious and lead to amputation. Approximately 60% of lower leg amputations are caused by diabetic foot infections.
Staying on Top of Your Medications
Managing diabetes can be costly, especially with the rising costs of medication. However, if you're not taking your diabetes medications regularly, or if you are rationing your medication, the consequences could be severe. Poorly controlled diabetes can lead to damage in the blood vessels, nerves, kidneys and eyes. By staying on top of your medications, you can lower the risk of other medical conditions, hospital visits and even death. Search for discounts on diabetes medications, learn more tips on how to save on diabetes medications, and download your free savings card to see if you can save up to 50% off diabetes medications and up to 80% other brand and generic medications.