Living with Diabetes
Living With Diabetes: How Much Does It Really Cost?
11/16/2021
Many people think of living with diabetes as merely an issue of too much sugar in the diet. However, diabetes can not only cause long-term health problems, but it can also mean additional expenses over time, especially if it is not treated properly. In fact, diabetes is the most expensive chronic condition in the United States. People with diabetes have to manage their condition and take into account the cost of doctor's visits, medications, and supplies.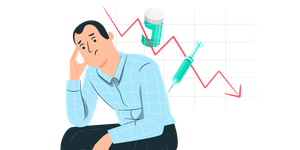 What Are the Costs of Living With Diabetes?
For people with diabetes, maintaining healthy blood sugar levels helps decrease the risk of complications, such as nerve damage, vision problems, and heart disease, among other problems. Naturally, better management of the disease can also mean lower healthcare costs.
Let's consider some major financial costs on a personal level related to diabetes.
People diagnosed with diabetes shoulder medical expenses 2.3 times greater than those without diabetes.
Assuming a person manages their diabetes properly, they should only have to see their doctor twice per year. However, if they're unable to control their diabetes, they may have to visit their healthcare provider more frequently or spend more time in the hospital due to disease complications. Time at the doctor's office or hospital could use up sick days and interfere with productivity.
People without insurance or adequate insurance coverage carry the greatest burden of diabetes medication costs. The cost of brand-name antidiabetic drugs for people without adequate coverage can range between $200 to $600 or more per month.
What Is the Economic Burden of Diabetes in the United States?
The National Diabetes Statistics Report found that 34.2 million Americans, or slightly more than 1 in 10, are living with diabetes and another 88 million American adults qualify as prediabetic. At such staggering numbers, it's no surprise that the cost of this condition, particularly type 2 diabetes, continues to concern all sides of the healthcare system.
Diabetes is one of the most expensive chronic conditions in the United States, with $1 out of every $4 in American healthcare costs being spent on caring for people with diabetes.
The most troubling findings from the American Diabetes Association's 2018 report are the ballooning direct costs of diabetes: $116 billion in 2007, $176 billion in 2012, and $237 billion in 2017. As the saying goes, an ounce of prevention is worth a pound of treatment, making diabetes prevention the most cost-effective strategy to pursue.
Budgeting and Paying for Diabetes Treatment
Health insurance helps pay for medical care, including the cost of diabetes care. Your health insurance options are private health insurance and government health insurance, such as Medicare and Medicaid.
When choosing a health insurance plan, consider the healthcare services and medical supplies you'll need to manage your diabetes. Does your insurance plan cover the prescriptions and devices that you'll be using, and, if not, what are the alternatives? Here are some expenses to keep in mind:
Prescription medications
Diabetes supplies and devices, such as an insulin pump
Diabetes lab tests and screening exams
Co-payments and deductibles
Many people with diabetes who are on a tight budget may try to stretch out their medications by halving their dose or taking medication every other day to cut back on costs. Others just never fill the prescription.
When dealing with the cost of diabetes, there is always an opportunity to discuss savings options with a pharmacy, such as manufacturer coupons, patient assistance programs, and discount cards. Talk to your pharmacist about comparable medications or how you can reduce your cost.
Inside Rx Is Here to Help
Inside Rx helps provide discounts on a wide variety of prescription medications to help effectively manage diabetes, including metFORMIN, lantus and lantus solostar, and more. Instantly download your unique Inside Rx savings card, email or text it to yourself, print it out, or store it on the Inside Rx mobile app. When you go to the pharmacy, show your savings card at check out to save! You may be able to save up to 80% on brand or generic medications.