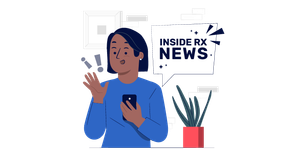 News
Professional Diabetes Educators Concerned Costs Interfere with Optimal Care for People with Diabetes
10/30/2019
Survey of diabetes educators highlights challenges faced by people with diabetes who cannot afford medication
A new survey of professional diabetes educators reveals what many on the front lines of health care are seeing every day in their practices – people living with diabetes struggle to afford their medications and are seeking relief on many levels including using discount prescription savings cards in order to better manage their condition.
According to newly released data, professional diabetes educators who are credentialed in diabetes self-management training, reported that when talking with people under their care, the concerns about affordability of medications and supplies were 12-fold greater (60 percent) than concerns their patients voiced over their ability to manage the condition and lifestyle management practices such as maintaining good health and healthy dietary habits.
When it comes to helping with the cost of affording diabetes medications and insulin, educators take it on themselves to invest the extra time to find ways to help. More than half of professional educators polled say they search for discount cards, like the Inside Rx® discount card, to cover medication at a price their patient can afford, and 25 percent of educators call the physician requesting a change to a generic medication.
"The cost of prescription medications can affect adherence, particularly among people who are uninsured," said Dorothy Wilkes, licensed pharmacist from Express Scripts with experience leading successful chronic disease state clinics. "Lifestyle management and medication adherence are a critical pair of components in the long-term strategy of managing a chronic condition. Unfortunately, lifestyle changes are difficult to implement and sustain and this inconsistency does little good when people also don't take their medications as prescribed."
Survey findings also revealed concerns over the risky actions people with diabetes are taking when they struggle to pay for their medications. Nearly two-thirds of educators report that their patients admit they ration their medications through actions like cutting their tablets or decreasing their insulin dosage -- practices that can be potentially risky and dangerous. Fifty-seven percent of educators reported their patients don't take their medications at all. According to the National Institutes of Health, complications from suboptimal medication and insulin therapy can lead to kidney damage and the need for expensive dialysis treatments, eye damage and potential blindness; as well as an increased risk for heart disease or stroke.
"Diabetes educators and other health care providers are in a constant struggle to not just assist their patients with the clinical aspects of living with diabetes, but the vast majority now have accepted the incremental responsibility of helping their patients find affordable options for the medications and insulin they so desperately need," said Leslie Achter, President of Inside Rx. "And, those people in the direst of straits are those stuck in the middle – the millions of uninsured people who don't qualify for Medicaid, and yet earn too much to qualify for patient assistance programs."
Certified diabetes educators (CDE) are clinical professionals who work with people with diabetes as part of their care team to provide guidance, support and resources to assist with the various aspects of disease management, including medication management, healthy eating and exercise, and reducing risk of complications. Nearly two-thirds (64 percent) of professional diabetes educators report that several times a week they encounter people with diabetes who cannot afford their medications, and another 16 percent report such encounters several times a month. A full 78 percent of professional educators estimate that more than one in five of their patients need help with the cost of their medications.
"There's no question that the cost of diabetes medications has become a major barrier to care and that efforts to reduce those costs are imperative," said Achter. "While we're working hard with drug manufacturers to address this problem, our survey showed that diabetes educators are doing their part, too. They're helping their patients lower their costs every day by showing them how to use Inside Rx, among a variety of available options." Methodology
The survey was conducted at the 2019 American Association of Diabetes Educators Annual Conference. Inside Rx polled 300 certified professional diabetes educators to understand what challenges they're seeing, hearing and experiencing with people under their professional care.