Living with Diabetes
What You Need to Know About How to Get Insulin When You Can't Afford It
05/29/2023
If you are living with diabetes and are prescribed insulin as treatment, you know how expensive it can be. However, there are ways to help save on insulin prices.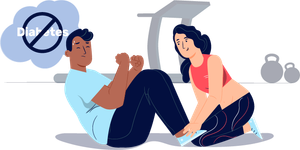 Retail insulin costs have risen exponentially, with the cost increasing by more than 200% for certain products between 2007 and 2018. As of 2023, the out-of-pocket costs for insulin for Medicare beneficiaries are capped at $35 per month. However, for people without insurance coverage, it can be trickier to get insulin at an affordable price.
If you have diabetes and don't know how to get insulin when you can't afford It, there are several ways to get help. Many health insurance plans may help cover some or all of the cost of insulins. If you don't have insurance or your out-of-pocket costs are still high, prescription discount cards may help lower the retail prices.
Let's take a look at the possible options to get insulin at an affordable price.
Many Diabetes Supplies Are Covered by Insurance
If you have insurance, it's important to know which supplies are covered and which ones aren't. Many of the diabetes supplies that people with type 1 or 2 diabetes need may be covered by insurance.
Most private insurance plans, as well as Medicare and Medicaid, cover some or all of the costs of diabetes supplies, such as glucose meters, test strips, lancets, insulin pumps and insulin. Certain supplies, such as insulin pumps and continuous glucose monitoring (CGM) systems, may be covered by the pharmacy benefit and durable medical equipment (DME) portion of the plan.
How to Get Insulin When You Can't Afford It
Despite the high costs of insulin, there are several resources and programs available to help those in need access insulin at a more affordable cost. These resources can include prescription discount programs, free samples from healthcare providers and assistance from pharmaceutical companies.
Ask Your Doctor or Pharmacist for Coupons
The first thing you need to do is ask your doctor or pharmacist for coupons. You might be surprised by how many coupons are available for medications, including insulin. If your doctor gives you a coupon, it may help reduce the cost of insulin or other medications. Your pharmacist may also have a coupon or discount card on hand to help lower your insulin costs.
Ask Your Doctor for Free Samples
If you're unable to afford insulin and don't qualify for any kind of assistance, your doctor may be able to help by providing samples. Samples are free medications that are provided by pharmaceutical companies in order to help patients gain access to their products. Ask your doctor if free samples are an option if you're finding it hard to afford insulin. Your doctor may need to request samples from the pharmaceutical company to ensure they have enough in stock.
Get a Prescription Savings Card
A prescription savings card is another option that can help you save on insulin and other medications when you can't afford them. You can usually find one for free through different outlets, such as pharmaceutical companies and third-party organizations.
Inside Rx provides a free prescription savings card that can help you save up to 80% on brand and generic medications, including insulin. You can download or print the savings card to potentially pay a lower retail cost of your medication.
Apply for Patient Assistance Programs
If you don't know how to get insulin when you can't afford It, there are options to help you get it. One option is to apply for patient assistance from the manufacturer of your insulin.
A patient assistance program is a way for people with chronic illnesses or disabilities to get free or discounted medications through their insurance providers or drug companies. Patient assistance programs are only available in certain situations, so not everyone will be eligible. But if you qualify, it could save thousands of dollars annually on medications like insulin!
Inside Rx is Here to Help
If you're wondering how to get insulin when you can't afford it, it's a good idea to reach out and explore all your options. That way, you can get the diabetes treatment you need. An Inside Rx card is a simple and easy solution that may help save you money on your prescription medications. You can use it at nearly 60,000 participating pharmacies across the country, and it can be used for everyone in the family, including pets. Download your Inside Rx card to start saving today!