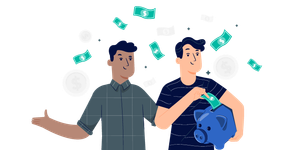 Prescription Savings
What's the Difference Between Drug Coupons and Prescription Savings Cards?
03/24/2021
You may be on your way to pick up your next prescription or refill that you've been needing to treat your condition. The main thing on your mind? How much it is going to cost and whether you will be able to afford it. After all, prescription drug prices are increasing every year.
While searching for different options to save money on your prescriptions, you may have come across drug coupons and prescription savings cards. Both options may be useful to save on prescription costs, especially if you don't have health insurance. But, what's the difference between drug coupons and prescription savings cards?
Manufacturer drug coupons
Sometimes called copay coupons, manufacturer drug coupons come directly from the manufacturer of the medication. They are typically exclusive to certain brand-name drugs manufactured by the pharmaceutical company. That means they can't be used for the generic versions of a drug, which can be a disadvantage since generic drugs are often cheaper than their brand-name counterparts.
Depending on the manufacturer and the terms of the coupon, there may be other conditions to be aware of. Manufacturer drug coupons can only be used to save money on a limited amount of refills. In addition, most manufacturer drug coupons can't be used if you also have coverage under Medicare, Medicaid, or other government-funded insurance programs. Lastly, some manufacturer coupons may only help cover a set dollar amount of a prescription. For example, they may offer $10 or $20 off on a 90-day refill, regardless of the price of the prescription.
Prescription savings cards
Unlike manufacturer drug coupons, prescription savings cards can be used multiple times. Also known as prescription discount cards, these savings cards generally do not have an expiration date. The discounted amount offered by the savings card may change. However, the discount is automatically applied when using the card to help pay for a prescription.
Prescription savings cards, like the one from Inside Rx, can be used by most consumers and patients even if they have healthcare coverage. However, prescription savings cards can't be used on top of insurance coverage, so they are ideal for underinsured and uninsured consumers.
Which one should you use?
It's best to compare prices before you purchase your prescription. The cost of your medication may be cheaper with a manufacturer coupon or a prescription savings card. There may also be other factors that can affect how much you pay for your prescription, such as the pharmacy you go to, your location, and whether you're paying for the brand or generic version of a drug.
Manufacturer coupons and prescription savings cards have advantages and disadvantages as described above. If you don't have insurance or you have high out-of-pocket costs, a coupon or a savings card can help lower the cash price of the medication to a more affordable price.
The Inside Rx Prescription Savings Card
Inside Rx provides a convenient drug search tool on the website that allows you to find the lowest prices for your medications. The search tool also allows you to compare the lowest prices at the pharmacies nearest to you. Simply type your medication in the search bar and enter your zip code to find the lowest prices at pharmacies in your neighborhood. Many patients find that they save up to 80% on their medications, including brand and generic medications.
The Inside Rx savings card can be used at over 60,000 pharmacies across the United States and Puerto Rico. You can instantly download your unique savings card on the website, through the app, email it to yourself or print it from the computer. Just show the card to your pharmacist at checkout and see if you can save on your prescriptions.