Prescription Savings
Generic vs Brand Medications: Comparing Your Options
01/06/2021
Life is full of options. From your internet service provider to what brand of shampoo to use, you get to make the decision that works best for your lifestyle. But did you know you also have options when it comes to filling your prescription medications? Inside Rx gives you choices; from pharmacy pick-up to generic vs brand medications, it's all up to you!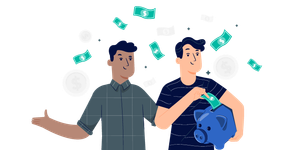 Many patients looking to save on prescription drug costs find that generic medication in a 30-day supply can provide the most bang for their buck. What's the difference between brand name and generic? Essentially, they do the same thing and contain the same active ingredients. A generic medicine is the same as a brand name medicine in dosage, safety, effectiveness, strength, stability, and quality, as well as the instructions. The Food and Drug Administration (FDA) conducts detailed reviews to ensure generic medications meet each of these standards. While the pills may appear different from the brand name counterpart, the effect is still the same.
Weigh Your Options
When comparing your drug options, it's important to determine what's most important to you. Some conditions require brand name drugs exclusively, while others allow for generic use. If saving money on your prescriptions is a priority and your condition allows, generic may be the way to go! Generic drugs have the same job as brand name medications, but the best part is they usually cost significantly less! How? Brand name medications are subject to thorough FDA review and testing and their patents prevent replicating the drug for a certain period of time. Once the patents and exclusivity agreements expire, generic alternatives become available, typically at a discounted rate. Brand name companies spend millions on research and development of drugs, while the generic versions don't have this overhead cost and are able to offer a cheaper alternative while still providing the same essential ingredients.
Considering Generic vs Brand Name?
First, you must determine with your doctor whether a generic drug is an option for your condition. Generic alternatives are available for common conditions like high blood pressure, erectile dysfunction, depression & anxiety and more. If you decide to go with a generic option, you'll need to find out if your medication has a generic version available by browsing the FDA catalog.
Some common generic medications for specific conditions include:
| Condition | Brand | Generic |
| --- | --- | --- |
| High blood pressure: | Norvasc | amlodipine |
| Erectile Dysfunction: | Cialis | tadalafil |
| Gastroesophageal reflux disease (GERD): | Protonix | pantoprazole |
| Depression and anxiety: | Lexapro | escitalopram |
| Influenza: | Tamiflu | oseltamivir |
Inside Rx Can Help
The Inside Rx prescription savings card can be used at over 60,000 retail pharmacy locations in the U.S. and Puerto Rico for many different brand name and generic medications. Medication is a personal choice between you and your doctor, just remember you have options. Whether you choose brand or generic, we offer savings on most generic versions of brand medications. Use our simple medication pricing tool to find pricing and drug information. Unsure if there's a generic alternative for your medication? We provide generic examples on the drug information page of each drug on our site.
In a world full of choices, don't forget to look at your medication options. Whichever you choose, download your unique prescription savings card and see if you can save up to 80% on both brand and generic medications. For more information on how Inside Rx works, check out our Help section. Happy browsing!