Helping you save at 60,000+ pharmacies nationwide. Save up to 80% on brand and generic medications.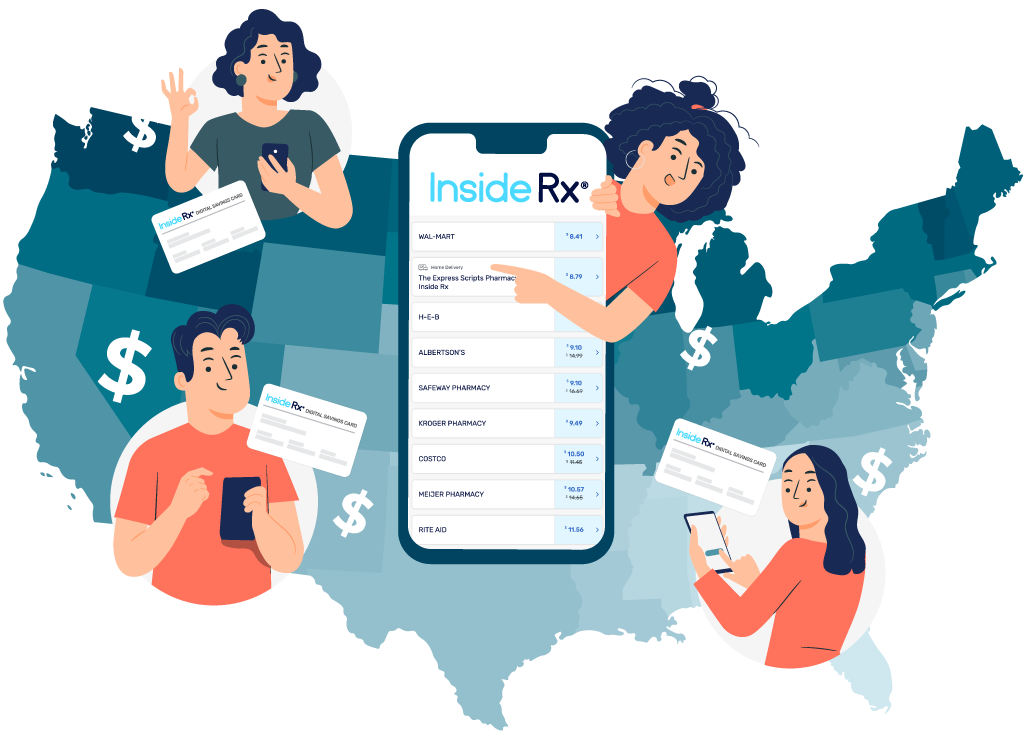 Pharmacy Partners
We've partnered with over 60,000 pharmacies nationwide to offer discounts on prescription medications for you and your family.
Accepted at your favorite pharmacy and many others
Don't see your pharmacy?
Inside Rx may still work with your pharmacy. Try searching for your medication with your location set to see if your pharmacy shows up in search results.
Frequently asked questions about pharmacy & pricing
This program is valid at participating pharmacies in all U.S. states and Puerto Rico. If your pharmacy is in the network but unable or unwilling to process your discount, please have the pharmacist call us at 800-722-8979 (7 days a week, 8:00AM - 9:00PM EST).
If it's free, it's for me! With Inside Rx, there are no separate annual or monthly membership fees or costs. Just show your prescription and your Inside Rx card to gain access to our lowest possible pricing on your medication. You can choose to use or not use the card at any time.
Magic! But really, we work directly with pharmaceutical manufacturers and retail pharmacies who are committed to providing more affordable medications by paying a portion of the cost of the prescription medication.
You can always check the current price of your prescription online, by calling customer service at 800-722-8979 or by asking the pharmacist to run a test purchase at the counter. But since we aren't psychic (though that would be pretty cool), we cannot guarantee the price you pay at the pharmacy will always be the price that is displayed or advertised in advance of your purchase. Pricing may change over time and may vary depending on the pharmacy at which you fill the medication.
Inside Rx partners with different retailers to secure the best rates for consumers. Prices vary based on various factors relating to those individual relationships. Don't worry, we are always making new friends (partners).
Prescription prices change frequently based on different forms, dosages, quantities and market dynamics. We can't control drug prices any more than we can the weather, but we will always try to get you the lowest available price.