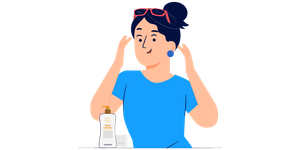 Skin Care Tips
How and Where Can I Use My Skin Conditions Medication Discount Card?
01/27/2023
Living with a skin condition of any kind can be painful, irritating or even embarrassing for some. While these are very common amongst Americans, their symptoms still have live-altering effects. Luckily, there are usually options available to treat most skin conditions, including prescription medication. Discount cards can be use to help save on the cost of medications for such conditions. To learn how and where to use discount cards for a skin conditions medication discount, read below.
The skin is prone to many health conditions, some temporary and others life-long or chronic. According to the American Academy of Dermatology (AAD), approximately one in four Americans have some form of skin disease.
For many people with skin conditions, medication is necessary to reduce symptom severity enough for them to achieve a good quality of life, making it important for everyone to have access to affordable skin conditions medication. One possible solution is a prescription discount card.
Read on to learn more about how to use a discount card to get a skin conditions medication discount and find pharmacies that honor it.
What Is a Prescription Discount Card for Skin Conditions?
A prescription discount card is an excellent way to save money on medication to treat skin conditions. It allows you to compare the prices and discounts offered by different pharmacies so you can order your prescription from the one that offers the best value.
To use a prescription discount card, follow these steps:
Get your prescription discount card from the provider's website or mobile app
Find the pharmacy that offers the lowest price on your specific skin condition medication
Show your discount card to the pharmacist when you drop by for your prescription
Note that the process may vary somewhat, depending on the discount card provider.
Apart from getting a skin conditions medication discount, you can also save money on other prescription medications for any other health conditions you may have. Some discount card providers, like Inside Rx, even help you get discounts on immunizations.
Inside Rx: A Free-To-Use Prescription Discount Card
Inside Rx is a discount card you can use to save up to 80 percent off the retail price of brand and generic prescription medications. You can use it to get a skin conditions medication discount at any of the 60,000+ participating pharmacies nationwide and in Puerto Rico.
You don't have to sign up or apply for a membership to use Inside Rx. It's also completely free to use. To claim your skin conditions medication discount, all you need to do is:
Download the Inside Rx discount card from our website, get it via the Inside Rx app or have it sent to you through email or text
Use the search function on the website or app to search your skin condition medication pricing and discount information
Enter your zip code to choose from pharmacies near you that offers the lowest price on your skin conditions medication
Order your prescription as usual, then show the pharmacist your Inside Rx discount card at checkout
Pay the discounted price
It's that simple!
Use Your Inside Rx Discount Card at These Pharmacies
Inside Rx is accepted at both community pharmacies and large chains nationwide and in Puerto Rico. Some of the pharmacies we've partnered with to get you the lowest prices possible on your medication include:
CVS Pharmacy
This company has more than 8,925 pharmacies around the world. Besides over-the-counter and prescription medications, CVS pharmacies also offer health and wellness services. These include the CVS Minute Clinic, which provides vaccines, laboratory tests, wellness screenings, sleep disorder treatment and other forms of in-person and virtual care.
Giant Eagle
As of 2022, the Giant Eagle supermarket chain has approximately 490 locations throughout Ohio, West Virginia, Maryland, Indiana and Pennsylvania. Over 209 of these locations have a pharmacy inside, along with other stores, to best serve the needs of its many customers. Some Giant Eagle pharmacies are standalone stores.
Winn-Dixie
The Winn-Dixie supermarket chain operates over 515 stores in Louisiana, Mississippi, Georgia, Florida and Alabama. At their in-store pharmacies, you can find a wide selection of prescription medications, over-the-counter drugs and other necessities. Winn-Dixie pharmacies are also known for their low-priced antibiotics program.
Rite Aid
Founded in 1962, Rite Aid has grown from a single store in Scranton, PA to one of the largest corporations in the U.S.. Rite Aid's 2,288 locations can be found nationwide.
For What Can You Use Your Skin Conditions Medication Discount Card?
Some skin problems go away on their own, while others require over-the-counter creams or ointments to address. However, in many cases, skin conditions need to be treated with prescription medications, either applied on the skin or taken by mouth.
The following are some examples of long-term skin conditions that are managed with prescription medications:
Acne
Eczema
Rosacea
Vitiligo
Management of several skin conditions requires costly prescription medications. For instance, treatment for the skin disease psoriasis costs the U.S. healthcare system $51.7 billion to $63.2 billion each year
With Inside Rx card, you may be able to get a skin conditions medication discount to help with long-term treatment costs. It may help you save money off the retail price of both topical and oral prescription skin condition medication.
Some types of topical skin condition medication you can use your Inside Rx discount card on are:
Meanwhile, oral medications prescribed for acne you may use your Inside Rx card to get a discount on include:
Get a Skin Conditions Medication Discount With Help From Inside Rx
Skin conditions can severely affect your quality of life. Some, such as psoriasis, have related conditions that can be painful and debilitating, like psoriatic arthritis. Skin conditions may also have a psychological impact, affecting your ability to live your life fully and confidently. That's why it's important for people with skin ailments to have access to proper medication that is high-quality yet affordably priced.
Start saving on your skin condition medications by downloading the Inside Rx discount card today. To learn more about Inside Rx, please visit our help page.
Sources: