Skin Care Tips
Living with Psoriasis: How to Cope
10/25/2022
Psoriasis is a skin condition that affects millions of Americans each year. Living with psoriasis can be extremely painful and embarrassing to some, contributing to mental and emotional stress. Lifestyle changes and treatments can help manage psoriasis. Read on to learn more about living with psoriasis.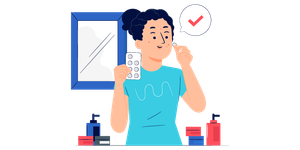 Psoriasis can be a debilitating, chronic condition that goes beyond just affecting the skin. It can also have an impact on emotional and psychological health, causing stress and embarrassment in some people. Still, using the right treatments and making healthy lifestyle changes can help make the condition more manageable.
Around 7.5 million people in the United States are living with psoriasis. Characterized by patches of flaky, reddish skin that forms silvery-white scales, plaque psoriasis is the most common form. People with psoriasis may be dealing with a high burden of this disease, especially when it comes to costs of healthcare and an increased risk of depression. If you or a loved one have psoriasis, you may be interested in finding out the best ways to cope.
Continue reading to learn about how to cope with living with psoriasis.
Best practices for coping with psoriasis
There are several ways to manage life with psoriasis that involve getting the right treatment, engaging in healthy habits, and getting support from others. Here are some practices that a healthcare provider may recommend.
Manage symptoms
Taking care of the skin, scalp, nails or other affected areas is the foundation of managing symptoms of psoriasis. Opt for short, warm water when bathing instead of long, hot showers that can dry or irritate the skin.
Depending on the area of the body affected by psoriasis, other ways to manage symptoms include using products without irritating chemicals, avoiding hair colorants and wearing gloves while doing certain activities such as washing the dishes. In addition, it's important to take any prescribed medications as directed by a healthcare provider.
Eat a healthy diet
Eating a healthy diet may help lessen symptoms and make living with psoriasis easier. The American Academy of Dermatology suggests following a weight-loss diet, a gluten-free diet or the Mediterranean diet to help reduce flare-ups.
Cut out smoking
Research suggests that smoking tobacco can increase the risk of developing psoriasis and worsen the severity of the disease. Smoking may affect how the immune system works, which could lead to more inflammation.
Watch alcohol intake
Heavy alcohol consumption is linked to more severe symptoms of psoriasis. Drinking alcohol may trigger an increase in inflammation, which could lead to worsened psoriasis. It's best to watch alcohol intake and opt for drinking in moderation only.
Exercise regularly
The National Psoriasis Foundation recommends staying active throughout the week by getting at least 30 minutes of moderate exercise at least five times per week. One review found that exercise could help reduce disease severity in people who are overweight. Being overweight may increase how often psoriasis flare-ups occur and how severe they are.
Reduce stress
Many people with psoriasis may be dealing with the stress and psychological effects of the disease. Stress can put a strain on relationships, work life, and overall quality of life. In up to almost 90% of cases, people with psoriasis report stress as a trigger for flare-ups. Ways to reduce stress may include yoga, breathing exercises, meditation, and exercise, among others.
Keep up with doctor visits
Psoriasis is a chronic condition that can vary in severity throughout life. If a healthcare provider prescribes a medication to help manage the condition, it's important to keep up with doctor visits to ensure the treatment is working well. In some cases, a healthcare provider may need to adjust treatments due to side effects, or they may recommend other treatments if symptoms are not improving.
Reach out for help
If you or a loved one are living with psoriasis, it doesn't have to be a lonely journey. Other people are also coping with psoriasis. Talking and listening to others who have psoriasis can improve an overall sense of well-being and connection while living with psoriasis. There are many resources to help connect you with someone who may be going through a similar situation, such as the National Psoriasis Foundation Support and Community page.
Getting the treatment you need for living with psoriasis
Your doctor may prescribe a medication to help treat your psoriasis. These medications include topical and oral medications that may be prescribed for psoriasis. If you or a loved one are prescribed medication for psoriasis, it can sometimes be hard to afford treatment. Inside Rx offers a free prescription savings card that can help you save up to 80% on brand and generic medications. The savings card can be used at over 60,000+ participating pharmacies across the country.
You can also use the pricing search tool to compare prices of medications online. Simply enter the name of your medication and your zip code, to compare prices at pharmacies near you. Download the app, text, email or print your savings card and show it at the pharmacy to save!