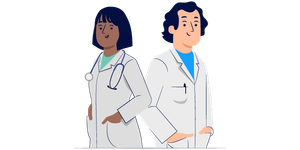 Just What The Doctor Ordered
Antibiotics: Everything You Should Know
11/04/2022
Antibiotics have become a common treatment method prescribed by doctors to cure a number of infections and illnesses. You may have wondered what they actually are and if you should be concerned when taking antibiotics. We've put together a guide to everything you should know about antibiotics. Read on to learn more.
The introduction of antibiotics over 100 years ago changed the world of medicine as we know it. Today, they are some of the most commonly prescribed medications. Antibiotics are potent medications that can treat a range of different illnesses caused by bacteria and, when used appropriately, antibiotics can save lives. However, it's important to note that antibiotics don't cure all types of infections. In addition, antibiotics are linked to certain side effects and antibiotic resistance, especially if used incorrectly.
Continue reading to learn more about antibiotics, how they're used, and important things to consider regarding their use.
What are antibiotics?
Antibiotics are a group of medications used to treat bacterial infections. There are different subtypes of antibiotics that work in different ways to kill or stop the growth of bacteria. Antibiotics can be administered by mouth, through an injection, and on the skin, eyes, or ears. The different types of antibiotics include penicillins, cephalosporins, tetracyclines, aminoglycosides, sulfonamides, and quinolones, among others.
What types of infections are antibiotics used for?
Antibiotics can be used for a variety of different infections caused by bacteria. Examples of bacterial infections that antibiotics treat include:
Strep throat
Ear infections
Urinary tract infections
Respiratory tract infections
Kidney infections
Skin infections
Sinusitis
Eye infections
Some bacterial infections clear up without the use of antibiotics. The type of antibiotic used will depend on the bacteria causing the infection. In some cases, a healthcare provider may prescribe a broad-spectrum antibiotic, test for the type of bacteria causing the infection, and then prescribe a different antibiotic that is more targeted.
What are the side effects of antibiotics?
Antibiotics can cause various side effects, depending on the antibiotic prescribed. Some of the most common side effects of antibiotics include:
Diarrhea
Upset stomach
Rash
Nausea
Vomiting
In severe cases, certain antibiotics may cause:
Allergic reactions
Hearing loss
Low blood cell counts
Serious diarrhea (caused by C. diff infection)
This is not a complete list of antibiotic side effects. Consult a healthcare provider about possible side effects, drug interactions, and other precautions before starting treatment with an antibiotic.
Important things to consider with antibiotics
There are certain aspects of treatment with antibiotics to be aware of. Before taking an antibiotic, you should understand the proper way to take it, among other details.
Take antibiotics as prescribed
You should always follow the directions from your healthcare provider when taking an antibiotic. Take the entire course of antibiotics, even if you start to feel better after the first day. Stopping antibiotic treatment early could lead to antibiotic resistance, which could lead to a more severe infection requiring other antibiotics. Do not share antibiotics or save them for later.
Antibiotics only work for bacterial infections
Antibiotics should not be used to treat viral or fungal infections. They only work to treat infections caused by bacteria. Antibiotics do not work to treat the common cold or flu.
Tell your healthcare provider about any side effects you experience
Antibiotics may cause side effects that range in severity from mild to life-threatening. Always consult a healthcare provider if you experience any unusual side effects or side effects that persist or worsen. Side effects may be more likely to occur if you take certain medications that can interact with the antibiotic or have certain medical conditions, such as kidney or liver problems.
How much do antibiotics cost?
Antibiotics are generally affordable medications. Most of the commonly prescribed antibiotics are available as generic drugs that are cheaper than their brand-name versions. Most Medicare and health insurance plans will also help cover the cost of antibiotics.
You can also save on antibiotics by using a prescription discount card. Inside Rx offers a savings card that could help save you up to 80% on both brand and generic medications. To compare prices at pharmacies near you, search your medication, enter your zip code and see the savings closest to you! The free savings card can be downloaded instantly, texted or emailed to you, or printed. Then, simply present at a participating pharmacy to save on your medications.
For more information on Inside Rx, visit our FAQ page.