Prescription Savings
Best Ways to Save at Pharmacies in Indianapolis
06/05/2023
If you live in Indianapolis and live with a medical condition, it is important to go to a pharmacy that is convenient and offers low prices on the medication you need. While there are a number of pharmacies in Indianapolis to choose from, you might not know how to save at these pharmacies. We've put together some ways you can save at the pharmacies near you.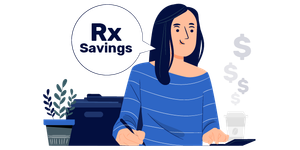 For many individuals and families, one of the most significant expenses is the monthly cost of prescription medications. While it's not extremely difficult to find ways to save at pharmacies in Indianapolis, not everyone is aware of the options available to them.
If you're looking to reduce your out-of-pocket costs or save on brand-name medications, we've outlined some ways to save at your favorite pharmacies. Having the right strategies in place could help you save time and money when purchasing the medications you need.
1. Use a Prescription Discount Card
There are many ways to save money at the pharmacy, but the most effective way is to use a prescription discount card. Prescription discount cards can help you save on the retail cost of medications at pharmacies in Indianapolis and throughout the state of Indiana. The Inside Rx savings card offers up to 80% off on brand and generic medications, even pet medications. You can also use the card at nearly 60,000 pharmacies across the nation.
Most savings cards can be instantly downloaded and shown at the pharmacy checkout counter to apply the discount. Search your medication to compare prices at pharmacies near you with Inside Rx.
2. Switch to the Generic Version of Your Medication
Some people may think that generic drugs are inferior to their brand-name counterparts, but that's not true. In fact, according to the Food and Drug Administration (FDA), generics are chemically identical to their branded counterparts and have the same effects on your health.
The only real difference between generics and brand-name medications is the price tag. Generic drugs usually cost less than their branded counterparts because they don't require the same level of investment in research and development as brand-name drugs.
3. Talk to Your Doctor About Alternatives
If you have a prescription for an expensive drug, talk to your doctor about whether there is a cheaper alternative that would work just as well for you. They may also be able to recommend alternative treatments for your condition that do not require you to take expensive medications. For example, prescribing a lower-cost medication in the same drug class may help you get better without putting an enormous strain on your budget.
4. Ask Your Doctor to Prescribe a 90-Day Supply
If you're taking medication for chronic conditions such as high blood pressure or diabetes, ask your doctor if you can get a prescription for 90 days instead of 30 days. Buying in bulk could help you save money on your medication since you won't have to make as many trips to the pharmacy. Some pharmacies also offer discounts for purchasing a 90-day supply.
5. Take Advantage of Manufacturer Coupons and Patient Assistance Programs
Pharmaceutical companies offer manufacturer coupons to help patients pay for their medications. These coupons may help you save up on your medications. You can find these coupons on drug manufacturer websites and sometimes at the pharmacy counter.
You can also check to see if you're eligible for a patient assistance program that can help you save on certain medications. These programs are run by pharmaceutical companies and government agencies, and they provide free or discounted medications to patients who need financial support.
6. Shop Around for the Best Deal
There are many pharmacies in Indianapolis, and some of them may have sales or discount programs for certain medications. Some of them also offer coupons for over-the-counter medications and other health products. You can save money by shopping around for the best price on your prescription medications at different locations. If you find one pharmacy in Indianapolis that charges less than other pharmacies, you can also try and see if the other pharmacies will price match.
Takeaway
Hopefully, this article has given you some insight into the best ways to save on your prescription medications at local pharmacies in Indianapolis. Even if you can save just a little cash each time you stop at the pharmacy, you're well on your way to saving a lot over time.
One of the easiest ways to save money at pharmacies in Indianapolis is to use a prescription discount card like the one offered by Inside Rx. The Inside Rx card could get you up to 80% off on your prescription medications, and it can be used at nearly 60,000 participating pharmacies. There's no limit to how often you can use it, and you can use it for everyone in the family, including pets. Happy saving!