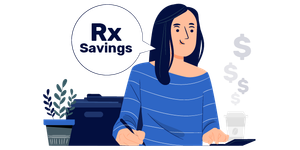 Prescription Savings
How to Find Discount Cards for Pain Medication
01/10/2023
Dealing with pain can be frustrating. Luckily, prescription medication as treatment is usually an effective option. Using a discount card is an easy way to lower the cost of pain medication. Read on to learn more about how to find and use discount cards for pain medication.
When suffering from any type of pain, the medication that is prescribed as treatment is crucial to recovery. Sometimes, these medications can be costly. Prescription discount cards allow holders to purchase a wide variety of generic and brand-name medications at lower prices. This means there are discount cards for pain medication. Learn more about using these cards for pain medication discounts specifically below.
Discount Cards for Pain Medication and Where to Get Them
Getting a discount card for pain medication is the best way to cut your prescription costs. These prescription savings cards are often available on the provider's website or mobile app, which users can easily access in a number of ways. Once you decide on the best card for you and download the card, you can possibly save up to 80 percent off your brand and generic medications.
Choosing Between Discount Cards for Pain Medication
A quick search online will present you with a handful of discount card providers. But how do you choose the right one? Do you need to submit any required information? Are there any processing or subscription fees you need to pay?
We'll delve into these answers and more insights below.
Is My Medication Covered?
Discount cards often cover common pain medications such as acetaminophen, ibuprofen and aspirin with codeine. However, it's a good idea to check with the card provider first to ensure you can get a discount on your prescription medication. You can often do this by searching for your medication on the provider's website.
Am I Eligible?
Usually, anyone can get access to a card, but only some are eligible for a discount. Providers have strict conditions, so make sure to read through their requirements and restrictions before getting a card to prevent misunderstandings.
Is It Free?
Most discount cards are free via the provider's website or app. Typically, the system generates a digital card for you within seconds at no cost. You are then free (pun intended) to download or print the card so you can quickly present it at your local pharmacy the next time you purchase your pain medications.
Is It Convenient?
Being a prescription discount card holder provides you with added convenience. You are not required to renew your membership or pay subscription fees. However, ensure your local pharmacy is affiliated with your card provider to avoid disappointing trips. A list of participating pharmacies is often found on the provider's website.
Obtain an Inside Rx Card for Possible Discounts
Inside Rx is one of the nation's leading prescription savings programs. Getting an Inside Rx card is a breeze - there is no need for registration or sign-up. All you have to do is click here to download your unique savings card. However, we do have some restrictions in terms of age, and insurance coverage, so make sure to check for your eligibility.
With an Inside Rx card, it's possible to save up to 80 percent on off-brand and generic pain medications at our pharmacy partners. We have a network of over 60,000 pharmacies in the U.S. and Puerto Rico, including:
CVS Pharmacy
CVS, the nation's largest pharmaceutical chain, is one of Inside Rx's long-term partners. This means our discount cards are acceptable in all of its locations. Generic pain and inflammatory medications that could be available for discounts are acetaminophen, ibuprofen, morphine sulfate and mefenamic acid.
Rite Aid
Rite Aid is available in more than 2,000 locations in the United States which all accept Inside Rx discount cards. Brand-name pain and inflammatory medication that could be available for discounts include Demerol® and Inflammacin®.
H-E-B Pharmacy
H-E-B is an established name in the health and pharmaceutical industry that operates over 300 stores across Texas. It is one of Inside Rx's partner pharmacies and accepts our discount card at any of their locations. As a result, generic pain medications like ibuprofen and morphine sulfate could be available for discounts.
Safeway Pharmacy
Safeway is another big name in the pharmaceutical industry that partners with Inside Rx in giving possible discounts for generic and brand-name medications they carry. You can possibly get prescription markdowns for acetaminophen, mefenamic acid and belladonna alkaloids.
Inside Rx discount cards are also accepted in HyVee, Giant Eagle, Walgreens and many more. You can browse our partial list of pharmacy partners to look for your local drugstore.
Three Ways To Save on Pain Medication
The costs of prescription drugs vary widely, but you can take steps to get a pain medication discount. Even if cost is not an issue with your regimen, the following may help you save some money:
Consider Generics
Generics are drugs that are often less costly than their brand-name counterparts. However, this does not mean they are less effective. The Food and Drug Administration (FDA) holds them to the same standards as branded medications. For this reason, generics contain the same active ingredients and are manufactured in highly-regulated environments.
There are several generics available today, including pain medications. Although they remain underused, there is an ongoing effort by the federal government to increase generic prescriptions because they effectively reduce costs without sacrificing quality. As of 2021, 9 out of 10 prescriptions dispensed in the U.S. are for generic drugs, which speaks of their effectiveness in treating all illnesses.
If you want to get potential savings on your pain medication, then exploring switching to generic options can help you cut costs.
Shop Around
It will significantly help if you shop around your local pharmacies to determine which offers the best prices for your required prescriptions. By comparing costs, you may save money on your medications.
You don't even have to go around town and visit every pharmacy in your area. Thanks to technology, it's possible to compare the prices of prescription drugs on your phone. For example, by downloading the Inside Rx mobile app or visiting the website, you can input the name of the medication and your zip code to pull up the pharmacies near you where your medications are available, and it will display their pain medication discounts.
Use Your Inside Rx Discount Card
Inside Rx is committed to making brand and generic pain medications accessible to anyone who might need them. If you don't have insurance - that is fine! You can still use the Inside Rx card if you fit our eligibility requirements.
The offer to help cut down on medication costs sounds too good to be true, so it's normal for you to wonder how our service works. The truth is, this is a win for everyone involved. You benefit from a pain medication discount, the pharmacy benefits from your business and Inside Rx is compensated every time you use our card.
Check your eligibility, and remember to use Inside Rx when looking up discount cards for pain medication today!
Sources: