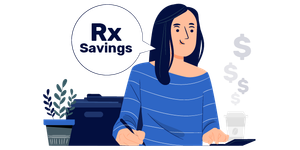 Prescription Savings
Best Ways to Save at Pharmacies in Dallas
05/25/2023
If you live in or around Dallas, TX you may be looking for a pharmacy that works for you. While there are a number of pharmacies in Dallas, finding one that has low prices on prescription medications, is located near you and has convenient hours is important. To help, we've come up with the best ways to save at pharmacies in Dallas and have listed them below. Happy saving!
It can be expensive to buy medications at pharmacies in Dallas, Texas, but you can still save big on your prescriptions and other healthcare products with the right strategies. There are plenty of options for pharmacies in the Dallas area, which can make it tough to choose the best prices. By exploring a few different options, you can find the best ways to save on your prescriptions.
Whether you're dealing with a chronic condition or just need a one-time prescription filled, the cost of medication can add up quickly. From comparing prices and opting for generic drugs to using a prescription discount card, there are many ways to keep your costs low.
Read on for the best ways to save at pharmacies in Dallas.
1. Ask Your Healthcare Provider About Generic Medications
You don't have to be stuck with the high cost of brand-name medications. Generic medications are just as effective as brand-name versions and can cost a fraction of the price. Generic medications also have the same active ingredients as brand-name drugs and work in the same way. They may only differ in inactive ingredients like coloring or flavoring agents.
If you're new to generic medications, it's important to know that they are not interchangeable with one another. You should always follow your doctor's instructions and ask questions if you have any concerns about taking any medication.
2. Compare Prices at Different Pharmacies in Dallas
When you're shopping for the best deals at pharmacies in Dallas, it's important to compare the prices of your prescription medications. Some pharmacies offer lower prices on certain medications than others, and they may even have coupons or discounts available.
When you're comparing prices and looking for coupons, be sure to check the price of the medication with and without insurance. Many people are often surprised to find that they can get their prescriptions for much cheaper if they pay cash with a discount card. This can be especially useful for those who have high deductibles or copays.
3. Look for Prescription Drug Coupons
Prescription drug coupons are available from many different sources and could help you save money on your medications. You can find these coupons online, in newspapers and magazines, or even at the pharmacy counter when you pick up your prescription.
Drug manufacturers offer coupons for their brand-name medications to eligible patients. In some cases, they may offer coupons in the form of a copay savings card for people with insurance. Check the site of the manufacturer of your medication to see if they're offering any coupons.
4. Use a Prescription Savings Card
If you have a prescription to fill and are looking for ways to save money, a prescription savings card is a great option. Many pharmacies offer discount programs that offer deals on both new prescriptions and refills. In addition, third-party companies partner with different pharmacies to offer lower prices on medications.
You can get a prescription savings card from Inside Rx and save up to 80% on prescription medications. That includes both brand and generic drugs. Once you have your card in hand, simply present it when purchasing your medication at participating pharmacies in Dallas, and they'll apply the discount automatically.
5. Try a Different Medication if Possible
If your doctor prescribed you a medication that is too expensive, ask your doctor if there's a cheaper alternative that will work similarly. Your doctor may be able to recommend something else that will work just as well while saving you money. You can also ask your doctor if there are other treatment options that will help manage your symptoms without the need for a prescription.
6. Apply for Prescription Assistance
If you have a prescription that's been prescribed to you by your doctor, but it's too expensive for you to buy the medication on your own, there are programs out there that can help. These programs are called prescription assistance programs.
They're designed to help people who have trouble paying for their medications. After enrolling in a patient assistance program, you may be able to get access to medications at no cost or a reduced cost. These programs may be offered by drug manufacturers, non-profit organizations or government organizations, and they can be a valuable resource if you're having trouble paying for your prescription drugs.
Takeaway
Take the time to research and compare prices, ask questions and take advantage of any programs or discounts that are available to you. By being an informed and savvy consumer, you can save money on your healthcare needs and get the care you deserve. Saving money on prescription drugs has never been easier, especially with tools and resources that can compare prices and find coupons.
If you're trying to find which savings program to use to save money on your prescription, you may want to consider an Inside Rx card. With the Inside Rx savings card, you could save up to 80% on brand and generic medications. All you have to do is print or download your card and present it at the pharmacy to save. The card can be used at nearly 60,000 participating pharmacies nationwide, including those in Dallas.