Prescription Savings
How to Decide Which Rx Savings Program to Use
06/07/2022
There are a number of Rx savings cards and programs out there. You may be wondering: Are they legitimate? How much can I save by using them? Which one is the best? Deciding the best for you depends on a number of things.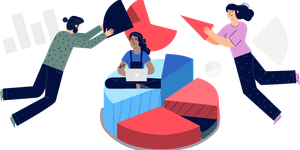 Rx savings cards are growing more popular. With the rise in drug prices, Rx savings cards have become a savior for many people who have trouble paying for their prescriptions. For many people, prescription drugs are hard to afford, even with insurance. Rx savings programs improve access to medications at more affordable prices. However, because many programs are popping up, it can be hard to navigate which program to use.
What are Rx savings programs?
Rx savings programs typically offer discount cards that can help you save on your medications, and they can often be used at most pharmacies across the United States. Using a discount card can help you save on both prescription drugs and over-the-counter medications (as long as they're prescribed by a healthcare provider). These cards can also help cover the cost of both brand and generic medications.
The best use of a discount card is saving money on prescription drugs with a high insurance copay. You might end up saving more with an Rx savings card than you would with your insurance. It's best to compare the price with a discount card to the price using your insurance. Many drugs are also not covered by insurance, including specialty drugs, so a prescription discount card has a leg up in many areas that insurance just can't help with. A prescription discount card can be a tremendous help for saving on prescription drugs for people without insurance.
The downside to prescription discount cards is that they can't be used in addition to insurance. They can only be used to shave off part of the cash price of the drug. These cards are also unable to be used on certain medications with Medicare.
How do Rx savings programs work?
Companies that offer Rx savings cards work with pharmacies through pharmacy benefit managers (PBMs). The PBMs negotiate with the pharmacy to set a fair price for the consumer. The PBM and Rx savings card company may receive a transaction fee when the card is used, while the pharmacy can benefit with more foot traffic in their store.
What makes a good Rx savings card?
A good Rx savings card can excel in various aspects. You should always do your research to find the Rx savings card that works best for you and your situation.
Where can the card be used?
Rx savings programs usually work within a network of certain pharmacies they've partnered up with. It's a good idea to pick the discount card that works at most pharmacies so that you have options for the best prices. For example, Inside Rx offers a savings card that can be used at over 60,000 pharmacies across the United States and Puerto Rico.
Is there a cost to use it?
Some Rx savings programs come with a membership fee or other types of fees to use them. However, there are many discount cards that you can get for free.
In what forms does the card come in?
Prescription discount cards may be available in printed or digital formats. Some companies also offer their card in an app that contains drug price search tools and other helpful add-ons.
Is the Rx savings program HIPAA compliant?
You'll want to make sure the savings program you use is HIPAA compliant. Otherwise, your personal health information could be in jeopardy.
Choosing the right Rx savings card
Using an Rx savings card doesn't have to be overwhelming. In fact, it can be quite convenient. Try to choose the program that works best for you, and always remember to compare the prices you get with the discount card to other options like insurance.
Inside Rx offers a free Rx savings card that can be used to save on both brand and generic medications. Most people who use Inside Rx may find that they save up to 80% on their prescription drugs. To check if you can save on your prescriptions, search for your medications by name at InsideRx.com and enter your zip code to see the savings at the pharmacies nearest you!
You can download, print, email or text yourself the Inside Rx card. There's even a mobile app you can use to search for drug prices right from your phone. Once you have your unique savings card, show it at the pharmacy to save on your medications!
To learn more about Inside Rx, visit our FAQ page.