Prescription Savings
What to Consider When Looking for the Cheapest Pharmacy
12/07/2021
Finding the cheapest prices for your medications can be tedious. Especially when different pharmacies charge different prices for the same prescriptions. While finding the cheapest pharmacy to fill your prescriptions is important, there are some other factors to consider before switching pharmacies.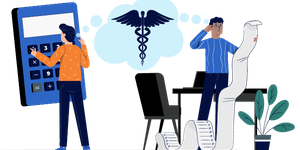 Getting the medications you need at the most affordable price is not always a walk in the park. You might have to take some extra steps to get the best price on your medications. But if you educate yourself a bit, you can be better equipped to make the best use of the cheapest pharmacy for your prescriptions every month.
Throughout recent years, retail prices for medications have continued to rise. In 2020 alone, retail cash prices for prescription drugs increased at a rate twice that of inflation. Luckily, you can easily take advantage of different ways to get the best prescription prices.
What should I consider when looking for the cheapest pharmacy?
Explore all your options
If you've ever shopped around, out of curiosity or necessity, you may have discovered that different pharmacies have different cash prices for medications. This can make things complicated as prescription benefit managers (PBMs) and manufacturers create specific deals with different pharmacies to determine medication costs. For this reason, it's best to explore all your pharmacy options, including both independent pharmacies and chain pharmacy brands.
Find out what the retail cost of the drug is
You might be surprised to find out that the cash price of a particular drug may be cheaper than the cost with insurance. Most pharmacies generally run your insurance automatically and ask for the copay when you come to pick up your prescription. However, it's recommended you find out what the retail cost of the drug is to see if it's cheaper that way.
Request the generic version
The generic version of a medication is almost always cheaper than the brand-name drug. If your healthcare provider has given you a prescription for a brand-name drug, talk to them about using a generic alternative. Generic medications contain the same exact ingredients as the brand-name version and work in the same way and at a cheaper cost.
Use a discount savings card or coupon
If you are uninsured or underinsured, you may be left having to face the cash price of a medication. Since the cash price can be exorbitantly high, it's best to look for other savings options, such as prescription discount cards and coupons. Manufacturers may provide coupons for their brand-name medications. If you are uninsured or underinsured, you can use a prescription discount card, like the one offered by Inside Rx, to save more.
Where to find the cheapest pharmacy
Inside Rx makes it easy
Inside Rx works directly with manufacturers and retail pharmacies to get low prescription drug prices for you. You can find discounted prices on everyday medications for you, your family, and even your pets. Use the Inside Rx online search tool to find discounts on your medications and compare prices at the nearest local pharmacies. Inside Rx is accepted at more than 60,000 pharmacies across the United States and Puerto Rico.
Instantly download your free savings card and take it to the cheapest pharmacy near you. You can also print, text, or email your unique savings card or use the Inside Rx mobile app to see if you can save up to 80% on brand and generic medications.