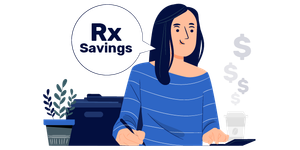 Prescription Savings
Do Prescription Discount Cards Work With Insurance?
06/08/2020
Consider if you could benefit from using a prescription drug discount card if your insurance doesn't cover a certain medication or you are in a high deductible plan.
Are you feeling overwhelmed by the costs of your prescription medications? Believe it or not, even if you have insurance, you may have other options to save on prescriptions. Consider if you could benefit from using a prescription drug discount card if your insurance doesn't cover a certain medication or you are in a high deductible plan.
It's no secret. Prescription discount cards are one of the many ways to help save on medications. Read on to find out more.
Understand Your Prescription Costs
First things first. It's important to know what you're paying for prescription medications. When you know the cost of the prescription you'd like to purchase, you won't experience sticker shock at the pharmacy counter.
Many times, you can look up which drugs are covered by your prescription drug plan's formulary list and see what your co-payment or coinsurance will be. A formulary is a prescription drug list that shows all the medications that your plan covers. Many plans provide online resources to help you identify if the drug you were prescribed is on your plan's formulary. Contact your plan if you have questions about your formulary. Your doctor may also know.
Sometimes your plan won't cover a drug or class of drugs. If you plan to purchase a medication on your own (meaning outside of your insurance), you may find the cost will be much higher than your typical co-payment. If you have a high deductible, you may also be required to purchase many medications out of pocket until you reach your deductible. This can make it hard to afford some medications. With a prescription discount card, and depending on your circumstances, you may be able to save more than what you would pay without one.
There are many ways to research and compare drug prices. Inside Rx makes it easy to compare drug costs across pharmacies.
Prescription Discount Cards and Insurance
Although you might have insurance, sometimes it might be cheaper to ask for the retail price. In some cases, your prescription might be excluded from the formulary list or you may have exceeded your plan's maximum limits. Other times, your plan's deductible or copay may be higher than the retail price of the prescription.
A prescription discount card, like one from Inside Rx, may bring the retail price down even further. Inside Rx's prescription discount card is completely free and can easily be downloaded from the Inside Rx site. Some restrictions on discounts for certain brand medications do apply.
Keep in mind, the Inside Rx card is not insurance, and cannot be used with insurance. So, when you use an Inside Rx discount card to pay for a medication, this payment does not apply towards your deductible, unless your plan allows it. However, you may be able to receive reimbursements by submitting your paper receipts to your insurance plan. Restrictions may apply. Always check with your insurance provider first.
Prescription drug discount cards can't be combined with insurance benefits, copay cards or any other secondary payer. However, even if you have insurance, see if you can save by paying 100% out of pocket with an Inside Rx discount card.
Save More on Prescriptions
With a free pricing tool on the Inside Rx website, you can simply type in the drug name and compare drug prices across different pharmacies. You can then find discounted prices by downloading or printing a free discount card. Also check out our mobile app on the App Store® and on Google Play®. With a simple click, you can utilize some great discounts for your medications.
Prescription discount cards can be an incredibly useful tool when trying to save on prescription medications without insurance. When using an Inside Rx discount card, users have saved an average of 80% savings on brand and generic prescription medications*. Those savings are nothing to sneeze at, especially for times when insurance only partially covers prescriptions, requires a high deductible or doesn't cover a prescription at all.
Savings based on all Inside Rx users, as compared to cash prices; average savings rates for generics are 78%; 37% for featured brand medications. See Discount Restrictions.