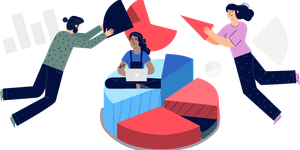 Prescription Savings
How to Combat High Prescription Prices
06/03/2020
If you look at trending news reports in healthcare, there's no question that service costs and prescriptions prices are on the rise.
If you look at trending news reports in healthcare, there's no question that service costs and prescriptions prices are on the rise. According to the AARP Public Policy Institute, the average annual cost of brand name drugs has increased more than three-fold in the last 10 years at $6,798 in 2018 up from $1,868 in 2006.
It seems that lately, high prescription prices continue to skyrocket, making them unaffordable for most. However, there are ways that you can manage increased costs and your health without paying excessive amounts. Here, we outline some strategies that can help bring those costs down.
1. Pharmacy Shopping
One thing you might not be aware of is the vast differences in prescription prices between different pharmacies. If you've been going to the same pharmacy for years to pick up your prescriptions, try shopping around for lower prices.
According to a study by Consumer Reports, prices for some of the most common medications can vary widely among pharmacies. For example, the retail cash price of a common brand name antidepressant can differ by more than $100 depending on the pharmacy you use. Their recommendation? Plan to do some research ahead of time.
Sometimes, lower prices can be found at independent or grocery pharmacies rather than big-box stores. However, it can be time-consuming to call every pharmacy to find out their prices for a certain drug. That's why Inside Rx created an easy-to-use medication pricing search tool that will list the lowest prices for a drug according to the pharmacies nearest to you.
2. Medication Alternatives
When you go to the doctor to treat your condition or illness, they may prescribe you a new medication. What you may not know is that there is usually more than one medication that can be used to treat the same condition. However, your doctor may not always be aware of the cost of the drug they are prescribing. Instead of getting hit with high costs for that drug, you can check with your insurance to see if there might be another alternative.
Medicare and insurance plans use what's called a drug formulary, which lists what drugs they cover. The list is organized into different tiers with different drugs. Sometimes, the drug you are prescribed can be switched to a lower-cost alternative. Check with your insurance plan's formulary and bring it with you to your doctor's visits so they can prescribe the best option for you.
3. Savings Programs
Even if you have insurance, prescription medications can be quite expensive. Oftentimes, you may find lower prescription prices by opting for out-of-pocket prices. You can then use a prescription savings card to see if you can bring the cost down further. A discount card like Inside Rx makes it easy for you to find discounts on medications and offer discounts at over 60,000 pharmacies in the U.S. and Puerto Rico.
Patient assistance plans are also available for those who are uninsured or qualify as a low-income patient. You can search for these plans directly through the drug manufacturer's website. Sites like RXAssist can also be valuable sources for finding more information on these plans which can help lower medication costs.
Combat High Prescription Prices with Inside Rx
According to the CDC, 24% of the U.S. population is using three or more prescription drugs. While Congress has proposed several bipartisan bills to combat high prescription prices, the overall solution is not as clear-cut. Still, consumers can consider these different strategies to help make their medicine more affordable.
Inside Rx focuses on making treatment more accessible by reducing prescription prices. Plus, greater accessibility to medications can ultimately help prevent higher costs from hospital visits and other medical emergencies. When you're able to purchase the drug treatments you need, you'll be one step further along the path to better health.