Mental Health Tips
How to Get Depression Medication Without Insurance
07/10/2023
If you've been diagnosed with depression, it is likely your doctor has recommended prescription medication as treatment. If you don't have health insurance, it can be hard to pay for expensive medications regularly. Luckily, there are ways to save on depression medication without insurance.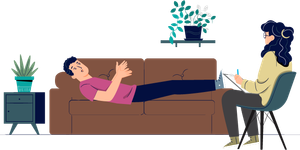 Depression is a serious mental health condition that affects millions of people in the United States. Around 21 million adults in the United States have at least one major depressive episode each year in which they might not be able to perform daily activities or enjoy life.
Getting the right treatment can be a struggle, especially if you don't have insurance coverage for medication. However, there are different ways to find and save on depression medication without insurance.
Ways to Get Depression Medication Without Insurance
There are several ways to get the medication you need, even if you don't have insurance. These options include:
Compare Prices at Pharmacies
Pharmacies may offer different prices for the same medication. Therefore, it's best to compare the prices at different pharmacies to find the lowest price for your medication without insurance. Inside Rx offers a convenient search tool that allows you to find the lowest prices of your medication at the pharmacies nearest to you.
Visit a Community Health Center
Community health centers may offer low-cost medications or free medical care, including mental health services, to people who can't afford it. These centers are funded by the government and are often staffed by healthcare professionals who are trained to help patients manage their mental health.
Check for Patient Assistance Programs
Many pharmaceutical companies and third-party organizations offer patient assistance programs for people who can't afford their medications. These programs provide free or low-cost medications to eligible patients. To find out if a particular company offers such a program, you can visit their website or call their customer service line. You'll also want to check their eligibility requirements, which often entail earning below a certain income.
Use a Prescription Coupon or Discount Card
Many websites offer coupons and discount cards that can help you save money on prescription medications. Just be sure to check the terms and conditions of each program, as some may only be available for certain drugs or in certain states. Pharmacies may offer discount programs to help save on certain medications. In addition, third-party companies, such as Inside Rx, offer free prescription discount cards to save on the retail cost of medications at participating pharmacies.
Ask Your Doctor for Samples
Asking your doctor for samples of the depression medication they're recommending for you is a great way to save money without insurance. Many pharmaceutical companies provide samples of their medications to doctors to give to patients who may be interested in trying the drug. If your doctor has access to these samples, they may be able to provide you with a small supply to try before you purchase a full prescription, especially if cost is a concern.
Ask for the Generic
The prices of depression medication without insurance can vary, depending on the drug and whether you've been prescribed a brand-name or generic drug. Brand-name medications are generally more expensive than their generic versions. Talk to your healthcare provider about using a generic version to save on the cost of the medication.
Inside Rx is Here to Help
Inside Rx can be a valuable resource for people who are in need of depression medication without insurance. The Inside Rx prescription savings card can be used by anyone, regardless of their insurance status. Simply present your prescription and the discount card at a participating pharmacy, and the discount will be applied to the total retail cost of the medication.
With an Inside Rx savings card, you could save up to 80% on brand and generic prescription medications. The card can be used at nearly 60,000 participating pharmacies across the nation. You can instantly download the card, print it out or even download the mobile app to show the card at the pharmacy and save on medications for you and your entire family.