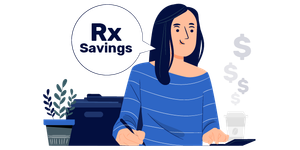 Prescription Savings
What is a Pharmacy Discount Card?
09/21/2021
High prescription drug costs have become a widespread problem in the U.S. But that doesn't mean there aren't plenty of savings options available to help lower the cost of your prescription medicines. While many people are able to shave off part of the cost of their medications with health insurance, others may be in need of other options to save on high drug costs.
Those who are uninsured may find it difficult to afford all the medications they may need, especially if they have chronic medical health conditions. Approximately 6 out of 10 adults in the U.S. have a chronic medical health condition, such as heart disease, diabetes, or chronic lung disease. Even those with insurance may find that their prescription drug costs are still high. That's where pharmacy discount cards come into play.
What is a pharmacy discount card?
Pharmacy discount cards are sometimes described under different names, such as drug savings cards, prescription savings cards, and drug discount cards. However, they are all intended for the same function. These discount cards differ from manufacturer coupons that are provided directly from a drug's manufacturer. The goal of a pharmacy discount card is to enable a person to receive a discount on a particular drug. There are many providers of discount cards that promote savings for their customers. Still, there are some important factors to look at when determining which pharmacy discount card is the best for you.
How do pharmacy discount cards work?
Pharmacy discount cards are generally offered by programs created by pharmacy benefits managers (PBMs.) These PBMs contract with pharmacies to get lower prices for their customers. Pharmacy discount card programs are then marketed and distributed for free to patients who are looking for cost-savings options.
Most people who use prescription discount cards are those who are uninsured or underinsured. However, most prescription discount cards can also be used by people with health insurance that does not provide coverage for a particular medication they need. Other people with pets may find benefit with using a discount card to cover the cost of their pet's medications. Some people may find that their health insurance plan is limited in general, or they get other benefits that the pharmacy discount card may provide.
Where can I use pharmacy discount cards?
Pharmacy discount cards can be used at most major retail pharmacies and some independently owned pharmacies. The exact pharmacies where discount cards can be used depends on the discount card provider and pharmacies they partner with. The discount card from Inside Rx can be used at over 60,000 pharmacies across the U.S. and Puerto Rico. The Inside Rx discount card might be able to help customers save up to 80% on both brand and generic medications. Opting for the generic version of a medication is also one of the most common ways to save money on a prescription.
It's helpful to use a pharmacy discount card that is provided by a company with a drug search tool on their website. The Inside Rx search tool helps you find the cheapest medications at the pharmacies nearest to you. All you have to do is enter the drug you're looking for and your zip code and you will be able to compare prices for your prescriptions.
You can also contact your local pharmacy directly to confirm whether they will accept your pharmacy discount card. You can ask your pharmacist to compare the price of your medication with insurance, without insurance, and with a pharmacy discount card. That way you can compare the cost with all your potential savings options.
To learn more about Inside Rx, visit our Help section.