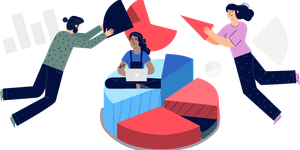 Prescription Savings
How to use prescription coupons and other discounts
01/26/2021
One of the best shopping hacks comes when you find a coupon for exactly what you were looking for. You're able to get the same product, for a discounted price—score!
But did you know you can also find these coupons for your prescription drugs? Drug companies sometimes put out individual prescription coupons for select medications that can save you a bundle. There are also other discounts available for prescription medications, through products like the prescription savings card from Inside Rx.
Prescription coupons are not insurance and are sometimes not combinable with other discounts, such as your Inside Rx savings card, Medicare or Medicaid. Some coupons require you to have insurance. Coupon eligibility depends on a number of factors but could provide discounts on your medications and might not work for everyone.
How to Find Prescription Coupons
One way to find individual coupons is to search your medications name followed by "coupons". For example, if you're looking for a discount on Tenormin (atenolol) you can try searching "Tenormin coupons." Here you'll find the official Tenormin website where you can view their patient savings program. After confirming your eligibility you can click to download your prescription coupon. As with any coupon, make sure to read the terms and conditions to fully understand the discount and how it may be applied.
The Easiest Way to Save
Don't want to scour the internet for prescription coupons? You can always just present your unique Inside Rx savings card. The Inside Rx discount card can be used at over 60,000 pharmacy locations in the U.S. and Puerto Rico. Because Inside Rx pre-negotiates drug prices with pharmacies, you may be able to save up to 80% on brand and generic medications with just one single card. Simply type your medication in the search bar, enter your zip code and see the prices at pharmacies near you. You can also see the pricing for the generic alternative for most brand name drugs right there. Inside Rx does the work for you!
Download your personal savings card and see if you can start saving instantly. Inside Rx is not insurance, but it can help lower the cost of life-saving and preventative prescription medications for those who are uninsured or under-insured. To find out more about usage and restrictions, visit our FAQ page.
Start Saving
Whether you choose to search for individual prescription coupons that work for you or utilize other discounts like the Inside Rx savings card, know you have options when it comes to saving on your prescription medications.