Asthma and Allergies
How to Get an Inhaler Without Health Insurance
06/19/2023
If you live with asthma and are uninsured or underinsured, you may be looking for how to get an inhaler without health insurance. While the cost of inhalers can be high without insurance, there are ways to save on this cost.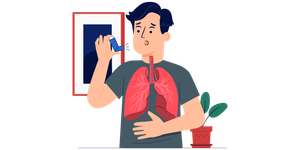 Asthma and other lung conditions can be difficult to live with, especially if you're dealing with shortness of breath, wheezing and chest tightness. If you've been diagnosed with asthma or another lung disease, such as chronic obstructive pulmonary disease (COPD), there's a good chance you'll be recommended an inhaler. While inhalers are effective for treating symptoms, they can vary in active ingredients, formulation and cost.
If you live with a lung condition, having access to an inhaler can be essential for managing your symptoms and maintaining your quality of life. However, if you don't have health insurance, the cost of inhalers can be expensive. Luckily, there are several options available to answer the question of "how to get an inhaler without health insurance".
Adhering to Your Asthma Treatment Plan
Inhalers are used to treat asthma and other lung conditions, such as COPD. Asthma is a condition in which the airways become inflamed, causing them to narrow and making it difficult to breathe. COPD is an umbrella term that covers several lung diseases such as emphysema and chronic bronchitis.
Inhalers, sometimes called puffers, can help open up the airways to make breathing easier. Quick-relief inhalers can be used for emergency situations involving wheezing and shortness of breath, while controller inhalers are used daily to manage symptoms. A healthcare provider may recommend corticosteroids, bronchodilators or a combination of both.
How to Get an Inhaler Without Health Insurance
If you don't have health insurance, it can sometimes be difficult to afford inhalers. However, there are some affordable ways to get an inhaler without health insurance.
Use a Prescription Savings Card
For some people, the best way to get an inhaler without insurance is to use a prescription savings card. These cards are offered by various companies and discount programs. Inside Rx offers a free prescription savings card that can help you save up to 80% on brand and generic prescription inhalers.
Prescription savings cards can be used at participating pharmacies. It's important to check the terms and conditions of the savings program you opt for. Some savings cards may provide better discounts and have fewer restrictions than others.
Find a Patient Assistance Program
Many pharmaceutical companies offer patient assistance programs that can provide inhalers at a reduced cost or even for free. These programs typically have eligibility criteria based on income, so check with the manufacturer of your inhaler to see if they offer any programs you might qualify for.
If you are considering a patient assistance program, it is important to read the eligibility criteria carefully and complete the application process as soon as possible. Some programs may have limited funds or may require time to process your application, so it's important to plan ahead.
Talk to Your Doctor
Talk to your doctor or healthcare provider if you're having trouble paying for inhalers without health insurance. They may be able to prescribe alternative options that are cheaper, such as generic inhalers. In some cases, they might recommend an entirely different medication that is effective and works the same as other inhalers.
Your doctor may also have access to samples or other savings options for inhalers. Your pharmacist may know of prescription assistance programs or other savings programs that can help you afford the medication you need. They may also be able to provide you with information about pharmacy discount programs or other resources that can help you save on the cost of your inhaler.
Use an OTC Inhaler
Some inhalers are available over-the-counter (OTC). Primatene Mist and Asthmanefrin are OTC inhalers that can be used for mild asthma symptoms. If you have a severe case of asthma or another lung disease, you should consult your doctor for a stronger option that is available with a prescription.
Saving on Inhalers Without Health Insurance
Inhalers can be an essential part of a treatment plan to help control your symptoms and manage your condition. If you don't have health insurance, you may be looking for how to get an inhaler without health insurance. Luckily, there are several ways to save on inhalers, such as using a prescription discount card.
With Inside Rx, you can find the lowest prices for your inhalers and other medications through the online search tool. Then, you can instantly download, print or download the mobile app to access your savings card to present at your pharmacy and save on medications. The card can be used at nearly 60,000 pharmacies across the nation, and you could end up saving up to 80% on brand and generic prescription medications.