Asthma and Allergies
How to Get an Asthma Medication Discount
01/23/2023
Asthma is a chronic condition that usually requires a lifelong medication regimen to manage the symptoms. This can become extremely expensive, especially for those without insurance or paying out-of-pocket for their asthma medication. Luckily, there are ways to save on prescription medication. Learn more about how to get an asthma medication discount.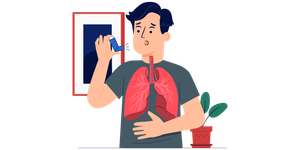 Asthma is a chronic condition affecting many areas in a person's life. While there is no cure, treatment–in the form of medications such as corticosteroid inhalers and oral drugs–helps those with asthma control their symptoms and reduce the negative impact on their daily lives.
However, the fact that there is no permanent solution to asthma means a lifetime of taking prescribed, often-expensive medications. According to research by the Centers for Disease Control and Prevention (CDC), a person with asthma spends about $1,830 on prescriptions each year.
Because asthma patients also have to contend with other medical expenses, such as outpatient visits and hospitalization for severe attacks, the financial burden of the condition can often feel overwhelming.
Fortunately, there are some ways to reduce this burden, such as using a prescription discount card to save on asthma medication. In this article, we talk about the importance of taking asthma medication, how you can save money on your asthma medication using a discount card as well as where to get and how to use a prescription discount card.
The Importance of Taking Your Asthma Medication
Those with asthma may be prescribed more than one type of medication in some instances.
Quick-relief or rescue medications like inhalers contain bronchodilators that relax tight muscles in the airways. As their name implies, they provide fast relief from symptoms. Some physicians prescribe quick-relief inhalers for asthma patients to use before they exercise. People with asthma should always have reliever medication with them in case their asthma is suddenly triggered.
Examples of quick-relief asthma drugs include:
Levalbuterol
Metaproterenol
Meanwhile, long-term medication, also called "preventers," calms inflammation of the airways and reduces mucus.
The following are some examples:
Combination inhalers
Inhaled corticosteroids
Leukotriene modifiers
Long-acting beta agonists (LABAs)
Theophylline
Long-acting muscarinic antagonists (LAMAs)
Theophylline is a bronchodilator that comes in pill form. Meanwhile, oral corticosteroids like prednisone and methylprednisolone are used to address severe asthma attacks.
It's crucial to always have quick-relief medication with you. This is because it's not always possible to avoid asthma triggers, and sometimes, what may first seem to be a minor flare-up could turn into a life-threatening asthma attack that could land you in the emergency room.
Meanwhile, when taken regularly and according to your physician's instructions, long-term medication may help prevent severe symptoms. Even if you feel okay, you should never stop taking your long-term medication without your doctor's approval.
The Steep Cost of Asthma Medication
According to a study published in the Annals of the American Thoracic Society, a person with asthma spends, on average, $700 to $2,200 every year for their entire lifetime. Unfortunately, the steep cost of prescription asthma medication has made it inaccessible to many affected.
While patient assistance programs (PAPs) from asthma medication manufacturers help, they are typically only available to those who are privately insured. Individuals who are underinsured or uninsured have to pay out of pocket for their asthma medication at retail prices.
Even those on private health insurance plans may have trouble affording their medicine because of copays and high deductibles. In fact, according to a report by the Centers for Disease Control and Prevention (CDC), almost half of adults aged 65 and younger cannot afford to pay for their asthma medication.
Fortunately, apart from PAPs, you can get an asthma medication discount through another avenue: A prescription discount card.
Save Up Using Inside Rx's Asthma Medication Discount Card
Inside Rx is a savings card that allows users to save up to 80 percent off the retail price of brand and generic prescription medications. You can use it to get an asthma medication discount at any participating pharmacy nationwide and in Puerto Rico.
Unlike some other discount cards, Inside Rx does not require users to sign up to use the card. It's also completely free! Inside Rx does not charge any fees or commissions from users.
To get your discount card, just visit the Inside Rx website. You can download the discount card or request it to be sent via text or email, you can also download the free mobile app.
On the website's homepage or in the app, simply type your asthma medication in the search bar and indicate your location. Inside Rx will pull up a list of pharmacies in your area that carry your medication, along with their prices and discounts.
You can claim your asthma medication discount by showing the pharmacist your Inside Rx discount card when you check out at the pharmacy.
Visit this page for additional information on how Inside Rx's prescription discount card works.
Use Your Asthma Medication Discount Card at These Pharmacies
Further, you can use your Inside Rx discount card at any one of more than 60,000 partner pharmacies. We work with both small community and large pharmacy chains to give you the most competitive prices for asthma medication as well as other prescription medications. Some of the pharmacies we've partnered with include:
H-E-B Pharmacy
Headquartered in San Antonio and serving Texas through its more than 260 locations, H-E-B is a combination supermarket/pharmacy offering a wide range of products and services. True to its slogan, "Taking Care of Texas," H-E-B Pharmacy offers free prescription delivery, custom medications and immunizations. It also donates five percent of its profits, pretax, to charitable organizations.
Hy-Vee
Notable for being employee-owned, Hy-Vee's full-service supermarkets have health clinics, fitness centers and HealthMarkets selling natural produce as well as pharmacies. Besides carrying an extensive range of over-the-counter and Rx products, they also offer value-added healthcare services like virtual doctor's visits, immunizations and counseling.
Stop & Shop
Through its 406 locations in the Northeast, Stop & Shop aims to deliver on its mission to offer safe, high-quality products to its customers in a modern, attractive environment. Stop & Shop locations feature several departments, including a full-service pharmacy.
Meijer
While the Northeast has Stop & Shop, the Midwest has Meijer. This chain of supercenters has 253 stores throughout Kentucky, Wisconsin, Illinois, Indiana, Ohio and Michigan. The company is known for its free antibiotics program, which it conducts in line with its commitment to philanthropy and giving back to the community.
Start Using Your Inside Rx Card Today
You won't have to wait for your Inside Rx card to be activated to claim your asthma medication discount. Just download the card or the mobile app, request your prescription with the pharmacy and start looking up discounts you can claim on your asthma medication at our partner pharmacies.
To learn more about Inside Rx, feel free to visit our FAQ page.
Sources: