Prescription Savings
How to Get Discount Prescriptions Without Insurance
11/02/2021
Purchasing prescription medications at an affordable price can be a pain. While every health insurance plan includes some form of prescription coverage, not everyone has insurance. And, even those with insurance may have a hard time getting the medications they need due to being underinsured. In other words, their insurance plan may not cover the medications they need or their plan may have stopped covering a drug that was previously on the plan's formulary.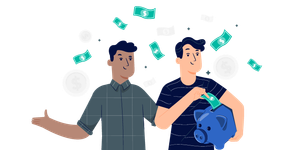 To add insult to injury, over 30 million people under the age of 65 are currently living without health insurance. Meaning, in many cases, a sizable percent of the population has to pay out of pocket for their prescription medications. With cash prices varying throughout the United States across pharmacies, it can be difficult to pay hefty retail prices for brand and generic drugs.
Luckily, those without insurance have several options in front of them to save on their prescriptions. Keep reading to learn more about how to get discount prescriptions without insurance.
How to get discount prescriptions without insurance
Finding discount prescriptions without insurance can be done through a number of ways. You can take advantage of the following options if you're looking for cheaper prices on your medications without insurance.
Savings programs
Different types of savings programs are provided by numerous pharmacies, institutions, and non-profit organizations. You can often find a prescription discount savings program from your local pharmacy, for example. Many of these programs at your local pharmacy can be free of cost to sign up, and they often provide medications at a low price. Medication assistance programs are often provided by non-profit organizations, including RxHope, RxOutreach, Patient Access Network, and Center for Benefits. These programs may be sponsored by drug manufacturers or patient advocacy groups, among other organizations.
Manufacturer coupons
Manufacturer coupons are sometimes referred to as copay coupons or copay cards. These manufacturer coupons come from programs sponsored by drug manufacturers, and they're used to help decrease the out-of-pocket costs for patients on certain drugs. Some manufacturer coupons may even lower the cost of a brand-name medication to zero. Still, many manufacturer coupons have restrictions in how they can be used and who is able to use them.
Buy generic
Instead of purchasing brand-name medications, it's often recommended to go for generic medications instead. Generic drugs contain the same exact ingredients as their brand-name counterparts and therefore, they work exactly the same. In addition, generic drugs are often much cheaper than brand-name medications. Talk to your prescribing doctor to see if they can provide the generic alternative so you can save more money.
Prescription discount cards
Another option to save money is a prescription discount card. These discount cards are offered by programs that work with a network of pharmacies to provide lower-cost medications. Plus, they're often free of charge and available to those with or without insurance. The only catch is they can't be used on top of an insurance copay or other discount option. Discount cards, like the one offered by Inside Rx, are accepted at over 60,000 pharmacies across the United States and Puerto Rico.
The Inside Rx card can help patients and consumers save up to 80% off on brand and generic drugs. It can be used at both retail and independent pharmacies, and you can print the card or download it to your phone for easy access. Once you present it to your pharmacist, they can keep it on record so you can continue saving on all your medications.
No matter which prescription discount option you use, make sure to do your research. You can also ask your pharmacist to help you compare the prices of your medications with your available savings options.