Prescription Savings
7 Ways to be Proactive About Your Health and Health Care Costs
06/08/2020
These days, health care can seem more complicated than ever. With rising premiums and different levels of coverage, health care costs can be confusing.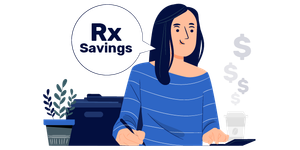 To know what you can afford when it comes to wellness visits, urgent care and prescriptions, here are some simple ideas that could help.
Get informed. If you have health insurance, make sure you understand what's covered, especially if you are diagnosed with a chronic condition such as diabetes, high cholesterol or hypertension. If something is not clear or you are unsure about what's covered, call your insurance carrier and make sure they provide you with the answers you need.

Save on your prescriptions. If you are uninsured, or your insurance doesn't cover certain prescription medications, an Inside Rx card may be an option for you. The card is not insurance but is a free discount prescription card that helps lighten some health care costs for consumers. The card provides an average savings of 40 percent off select brand prescription medications and 80 percent off generic medications for eligible users. There's even a card for your pet's prescriptions. Next time you're picking up a prescription, just download the card on your phone — no app required — and show it to your pharmacist to see if you can benefit and how much you could save. Eligibility requirements and a complete list of the medications offered through the program can be found at InsideRx.com.

Shop around. Inside Rx can also help you find the best deal for your specific medication at a pharmacy close to you if you are using the discount card. With just a few clicks, you can see the pharmacy that offers the best deal in your area. Also, discuss with your doctor if switching to a generic medication is an option for you; this could save you money when purchasing your medications.

Utilize your provider's online platform. If your healthcare provider offers an online medical records system, log in and check to make sure you are up to date on vaccines, boosters, wellness visits and screenings. Check your insurance coverage before scheduling, but don't delay on any of these, as the cost to your wallet and your health could be greater if issues are left untreated. Identifying problems early keeps you healthy and saves you money down the road.

Take advantage of wellness plans. If your employer offers a wellness plan, participate! You may get perks such as partial coverage of gym memberships with some employers' plans. Talk to your employer's human resources office about health care savings or other plans that may be available to save you out-of-pocket costs. Don't be afraid to ask questions to make sure you understand how the plans work.

Don't delay treatment. If you've been diagnosed with a condition that requires treatment or medication, don't put off starting your treatment. Talk with your doctor about any financial concerns and see if you could save with a prescription savings card.

Plan for medical bills. Just as you would ask a mechanic to estimate the cost of service on your car ahead of time, don't be afraid to ask providers what health care services will cost. Many providers will work with you to arrange a payment plan when a medical bill is not covered by your insurance, or if you are uninsured or have a high deductible. Don't be afraid to negotiate!
Rather than waiting for issues to arise, take charge of your health care costs and plan ahead for your health care related costs. While you can't prepare for everything, you can give yourself every advantage by being informed, using the resources available and asking questions.