Prescription Savings
How to Find the Cheapest Pharmacy to Fill Your Prescription: Exploring Inside Rx
08/17/2023
When going to the pharmacy, you want to make sure you're getting the cheapest options possible for your prescription. To help you save even more money on medications, this article will cover ways of finding the cheapest pharmacy to fill your prescription.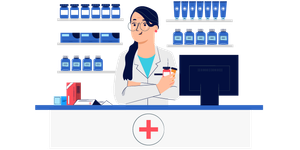 If you're looking for ways to save money on prescription medications, you're not alone. Many people are seeking affordable options when it comes to filling their prescriptions. One option worth exploring is Inside Rx. In this blog, we'll discuss how to find the cheapest pharmacy to fill your prescription and provide information about Inside Rx.
Finding the Cheapest Pharmacy
When it comes to finding the most affordable pharmacy to fill your prescription, consider these strategies:
1. Shop Around:
Different pharmacies may have varying prices for the same medication. Take the time to compare prices at multiple pharmacies in your area. Online tools and phone calls can help you gather information efficiently.
2. Utilize Price Comparison Websites:
Price comparison websites can provide you with a list of prices from various pharmacies. Websites like Inside Rx, GoodRx and RxSaver allow you to search for your medication and compare prices at different locations. This will help you find the lowest price near you.
3. Check for Discounts and Coupons:
Many pharmacies offer discounts or coupons for specific medications. Visit their websites or give them a call to inquire about any ongoing promotions or loyalty programs. Don't hesitate to ask if there are any manufacturer coupons available as well.
4. Consider Generic Medications:
Generic medications are often much more affordable than their brand-name counterparts. Ask your healthcare provider or pharmacist if there is a generic alternative available for your prescription.
5. Explore Prescription Assistance Programs:
Certain nonprofit organizations and government programs offer assistance for individuals who cannot afford their prescription medications. Research if you meet the eligibility criteria for any of these programs.
Inside Rx: An Affordable Option
Now, let's discuss Inside Rx. Inside Rx is a prescription savings program that offers discounts on a wide range of brand and generic medications. Here's what you need to know:
Inside Rx is not insurance but rather a discount program that can significantly lower the cost of your medications.
The program is available to everyone, regardless of insurance status or income level.
Inside Rx partners with a network of pharmacies, including major chains and local independent pharmacies, to provide discounted prices.
The discounts offered through Inside Rx can sometimes be lower than the prices available through insurance copays.
To take advantage of the savings offered by Inside Rx, follow these steps:
Visit the Inside Rx website or download their mobile app.
Search for your medication using their search tool.
Compare the discounted price offered by Inside Rx with the prices at other pharmacies.
Locate a participating pharmacy near you and present the Inside Rx discount information when filling your prescription.
Inside Rx can be a valuable resource for individuals seeking affordable prescription medications. However, it's essential to note that not all medications may be available through the program, and the discounts may vary.
Remember, when choosing a pharmacy, consider factors beyond cost, such as reliability, customer service, and overall convenience. It's crucial to find a pharmacy that meets your needs while also providing affordable options.
By employing these strategies and exploring the benefits of Inside Rx, you can find the most affordable pharmacy to fill your prescription and save money on your medications. Happy saving!