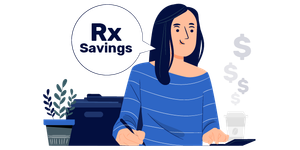 Prescription Savings
How Do I Find Out How Much a Prescription Will Cost?
05/19/2023
When a doctor prescribes you a medication, a common question you may ask yourself is "how do I find out how much a prescription will cost?". You're not alone. It is important to find out the cost of a prescription before the pharmacy fills it, to ensure it is something you can afford. We've explained how to find out the cost of a prescription and offer some savings tips below.
A high prescription price tag could mean the difference between getting the treatment you need and looking for an alternative option. With that being said, prescription costs can be hard to navigate. If you're prescribed medication, you'll want to make sure that you're not going to get in over your head financially. And that means finding out how much your projected medication costs will be.
If you're asking yourself, "How do I find out how much a prescription will cost?", you don't have to worry. There are various ways to figure this out before ever picking up your first prescription.
How Do I Find Out How Much a Prescription Will Cost at the Pharmacy
1. Contact your pharmacy
If you're not insured, you'll have to pay the full retail price of the prescription medication at the pharmacy. Some pharmacies may have an online catalog that shows their prices for prescription drugs. Otherwise, you can call or visit the pharmacy and ask for the price of your prescription.
Most pharmacies will give you an estimate of how much a prescription will cost before filling it. If you have insurance, the pharmacy can tell you whether your plan will help cover the medication. The price may vary depending on the quantity and strength of the prescription medication.
2. Ask Your Insurance Provider
Check with your insurance provider to see how much your prescription will be if it's covered. You can also check your plan's formulary to see whether your prescription will be covered. The cost with insurance will depend on the medication and the coverage stage you're in. If you have not met your deductible, you may be responsible for the full retail price of the medication. Ask your insurance plan's provider what your potential copay or coinsurance amount will be after meeting your deductible.
3. Consult Your Doctor or Healthcare Provider
In many cases, your healthcare provider will have some information about the pricing of your medication. If cost is a concern for you, let them know. They may be able to offer other alternatives, such as generic prescriptions or a different medication altogether. Your healthcare provider may also have free samples, coupons or other savings options that you could use to reduce your prescription costs.
4. Use an Online Medication Price Comparison Tool
If you're looking for a way to find out how much your prescription will cost, an online medication price comparison tool is a good place to start. These tools allow you to compare prices at local pharmacies, as well as online pharmacies. They can also be used for comparing prices on brand-name and generic drugs.
Saving Money on Prescription Costs
If you have high prescription costs, there are many ways to save, such as pharmacy discount programs and prescription discount cards. Before purchasing your medication, you'll want to compare costs with different options.
The price of medication varies widely among pharmacies, so it pays to do some comparison shopping. Prescription discount cards can be obtained for free through various companies. Inside Rx offers a free prescription discount card that can be used at nearly 60,000 pharmacies nationwide. You could save up to 80% on brand and generic prescription medications when paying out-of-pocket.
If you have multiple prescriptions, you can try asking for a 90-day prescription. Buying in bulk may be cheaper than getting a 30-day supply, and you'll save money in the long run.
Takeaway
If you're wondering "how do I find out how much a prescription will cost", it's important to remember that there are many factors that can affect how much your medication costs, including the type of drug and where you buy it. You can save money by asking your doctor about generic alternatives and taking advantage of different savings options.
Inside Rx offers a search tool that tells you how much your discounted prescription is going to cost before you even step into the pharmacy. This can help save you time and money by allowing you to find the best deal on your medication right from home.