Prescription Savings
How To Find the Best Pharmacies in Houston
05/31/2023
Finding a good pharmacy is harder than you might think. Especially in a big city like Houston, there are hundreds of pharmacies to choose from. We've put together a list of things to consider when searching for the best pharmacies in Houston below.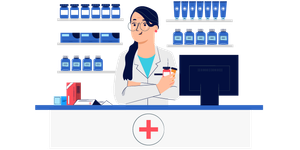 Finding the right pharmacy in Houston can be a challenge. There are so many to choose from, and each one has its own advantages and drawbacks. Pharmacies can differ in their prescription pricing, store discounts and services. But don't worry! We've done all the hard work for you.
In this article, we'll show you where to find the best pharmacies in Houston, what to look for and how to get your prescriptions filled quickly and efficiently at each location.
1. Read Customer Reviews
One of the best ways to find a pharmacy is by reading reviews. Reviews can be found on sites like Google, Yelp and other websites. Look for online reviews that are recent and from reputable sources (not just anyone). A review that isn't recent or from a reputable source might not be accurate or helpful in choosing which pharmacy to go to.
Also, look at the number of people who have left their opinion. If there are only five four-star reviews for one pharmacy versus 40 five-star reviews for another, then it might be better to go with the latter.
2. Ask Friends and Family if They Have Any Recommendations
Asking friends and family for recommendations is a great way to find the best pharmacies in Houston. If you have a friend who lives in the area, they may be able to recommend some local pharmacies that they like or have used before. Keep in mind that it's important to ask them about their overall experience at the pharmacy, rather than just asking if they got their prescription filled correctly. The best way to do this is by asking open-ended questions like "What was your experience like?" or "How did you feel about your visit?".
If you're looking for a specialty pharmacy (such as one focused on pain management), talk with your doctor about what they think would be best for your particular needs. They may have recommendations for the best pharmacy that offers the services and prescription drugs you need.
3. Compare Prices at Different Pharmacies
If you want to find out which pharmacies in Houston offer the lowest prices, compare their prices by shopping around. You can do this by speaking with representatives at each pharmacy or by checking online reviews and customer ratings. This will help you determine which pharmacies have better prices than others so that you can save money on your prescriptions.
4. Research What Benefits They Offer
After you've narrowed down your list of potential pharmacies, you should compare their benefits and other services they offer. Don't forget to check if the pharmacy offers any discounts or loyalty programs. You'll also want to make sure their hours of operation align with your typical schedule. If you only have time to pick up prescriptions on the weekends, you might want to find a pharmacy that offers extended weekend hours.
If all else fails and you can't find a pharmacy that meets all of your needs, don't worry! You can always find one online using Google Maps or calling ahead to verify their information.
There Are Many Pharmacies in Houston, but Some Are Better Than Others
Houston is home to many pharmacies. But not all of them are as good as they could be. To find the best pharmacy for you, you'll need to do some comparison shopping and ask other people what they would recommend.
Don't just walk into a pharmacy in Houston without doing your research first. There are plenty of great options out there, or at least enough of them that you won't have to settle for anything less than what you need.
Takeaway
We hope this guide has helped you find the best pharmacies in Houston. There are many pharmacies to choose from, but some are better than others. We recommend comparing your options before deciding and asking friends or family if they have any recommendations. If all else fails, try comparing prices at each location so that you don't overpay for prescriptions.
You can save money when filling your prescriptions at the best pharmacies in Houston by using Inside Rx. Inside Rx is a free prescription discount card. You can print, download, email or text your free discount card and save up to 80% on your brand or generic prescription medications. The prescription discount card works at nearly 60,000 pharmacies across the nation at participating pharmacies, including those located in Houston.