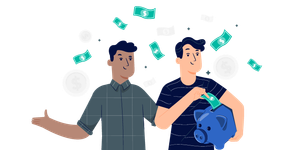 Prescription Savings
How to Find Discount Cards for Pain Medication
01/12/2023
Inflammation can be painful on its own. Adding the high cost of prescription medication as treatment can make it even worse. Luckily, there is a easy way to find an inflammation medication discount - prescription discount cards! Learn more about how to use discount cards for inflammation medication discounts below.
A prescription discount card offers the perfect way to potentially save money on prescription medication. They are often free to acquire and available for both those who have health insurance and those that do not. If you are suffering from pain or inflammation and are looking for a discount on your prescription inflammation medication, read on to learn how to use a discount card for savings.
Using a Discount Card
Prescription discount cards, like the one offered by Inside Rx, help to provide a inflammation medication discount, as well as discounts on other medications. The Inside Rx card is free to use and can be instantly downloaded. To see if we offer discounts on your specific medications, head to our website, or download our mobile app, and type your medication into the search bar. The results will display discounted prices on your medication at a number of pharmacies. To compare prices at pharmacies nearest you, enter your zip code into the search filters. Prices do differ from pharmacy to pharmacy, so it is still important to compare the costs to maximize savings.
Once you have a discount card, you only need to present your card to the pharmacist to purchase your medication at discounted rates.
Inside Rx has over 60,000 participating pharmacies in the United States and Puerto Rico. If you are an Inside Rx discount card holder, you can use your card at the following pharmacies to possibly get an inflammation medication discount:
Walmart
Walmart is one of the largest retailers in the United States and is also engaged in an ongoing partnership with Inside Rx. As a result, you can buy inflammation medication at a discount at Walmart. This includes generics like acetaminophen and ibuprofen. In addition, branded medicines such as Diclofenac®, Celebrex® and Nalfon® are also available in select locations.
CVS
CVS is a pharmaceutical chain that has been a long-term partner of Inside Rx. You could get an inflammation medication discount by presenting our card in one of their branches. Some inflammatory medications you can get from CVS include Diclofenac®, celecoxib and Indomethacin®.
H-E-B Pharmacy
H-E-B Pharmacy operates over 300 locations across Texas and is one of our partner pharmacies that accepts Inside Rx discount cards at any of their stores. Generic inflammation medication that may be available for discounts include sulindac, diflunisal and oxaprozin.
Safeway Pharmacy
The Safeway pharmaceutical chain is among Inside Rx's most significant partners. Zorvolex® and Tivorbex® are brand medications that may be available for discounts at any of their locations.
Rite Aid
Whether you require brand-name medications or wish to buy the generic counterparts, Rite Aid Pharmacy has everything you need. Present your Inside Rx card at one of their branches, and you could save money the next time you fill prescriptions. Diclofenac® and celecoxib are common anti-inflammatory drugs that may be available for discounts.
Inside Rx cards are also accepted in other pharmacies like Walgreens, HyVee and Giant Eagle. Find your local drugstore in our partial list of pharmacy partners. If you need help finding your local drugstore, run a pricing inquiry from the Inside Rx website home page to view all participating pharmacies in your area.
FAQs on Inflammation Medication Discount Cards
There are many prescription savings programs out there, so do your due diligence when choosing the best one for you.
Everyone deserves proper treatment for their health condition, but medicines can be costly. No one should have to choose between buying groceries or filling prescriptions. For this reason, we are committed to making affordable prescription medication available to anyone who needs it.
Below, we answer the most frequently asked questions about discount cards for inflammation medication discounts:
How To Get an Inside Rx Discount Card?
Getting an Inside Rx discount card is so easy. Just click here, and we will instantly generate a unique card for you. Then, you can either download the card or print it out to have a physical copy. You can also email or text your card to yourself for safekeeping, or download our mobile app. There's no need to register, sign up or renew memberships.
Am I Eligible?
Anyone with a valid prescription can get a card. However, not anyone is eligible for an inflammation medication discount. Inside Rx has discount restrictions in terms of age and insurance coverage. So, read through our guidelines to ensure you are covered.
Is It Free?
Many discount cards are accessible at the provider's website or app, including the one offered by Inside Rx. When you go to this page, we will create a card for you within seconds at no cost.
How Does It Work?
Inside Rx negotiates discount prices with participating pharmacies, allowing consumers to purchase medication at lower rates. Many discount cardholders are uninsured and would otherwise not be filling their prescriptions if the costs are too high. Without Inside Rx, these potential customers would end up abandoning their prescriptions, making the pharmacy lose foot traffic through the store.
Once payment is processed through the card, the discount program gets paid, and the customer gets their inflammation medication discount. It's a win for everyone involved.
How Much Will I Save?
Individuals can save up to 80 percent off brand and generic medications with an Inside Rx discount card. However, prices at every participating pharmacy may vary.
Thankfully, you can quickly check and compare prices on anti-inflammatory medications using the Inside Rx app, which is free to download. Once inside the app, input the name of the medicine you wish to purchase, click search and it will pull up the name of the pharmacies where it is available, their prices and possible discounts. So whether you are looking for generics or brand-name medications, the Inside Rx app makes it easy to compare prices to help you get healthy savings.
Save With Inside Rx
Always have your Inside Rx card ready to get discounts on your medication(s) at your local pharmacy. With our card, you can possibly save up to 80 percent on your prescriptions.
In addition to medications, we now offer discounts on vaccines. Just type in the name of your vaccine and your zip code on our home page to compare prices at drugstores near you. Once you have located the pharmacy with the most affordable prices, schedule an appointment to receive your vaccination. Most pharmacies have websites or apps that allow people to schedule appointments online.
You have nothing to lose and everything to gain with Inside Rx. So, check your eligibility and start saving with an Inside Rx discount card today!
Sources: