Prescription Savings
Can You Use Prescription Discounts with Insurance?
07/07/2023
Prescription discounts, like a prescription discount card or coupon, are helpful in saving money on medications when you are not insured. However, medication can still be expensive even with insurance. Is it possible to use prescription discounts with insurance?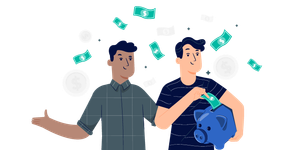 If you're someone that has health insurance, you might find that it's still hard to afford your medications. That's because plans and their formularies can differ, and not all medications are covered the same. For instance, a medication you take may be on a higher tier, which means your copay may be higher than it would be with medications on a lower tier. Medications that can be expensive even with insurance include brand-name and specialty medications.
With that being said, you may have heard of ways to get prescription discounts, like using prescription discount cards. If you're finding that medications are still expensive, you might be wondering whether you can use prescription discounts with insurance or Medicare. Fortunately, the answer is yes, you can use prescription discount cards with insurance. However, you can't stack the savings you get with a discount card to lower the cost of your copay.
In this post, we'll explain how prescription discount cards work, how they can be used with insurance and where you can find them. We will also provide some tips on how to use these cards effectively to get the most savings on your medications.
How Does a Prescription Discount Card Work?
You may have heard of prescription discount cards, but you might not know how they work. Prescription discount cards are a great way to save money on prescriptions, but they do come with some stipulations.
They work by reducing the retail cost of prescription medications. There are many different types of discount cards, and they can differ in their benefits, limitations and restrictions.
Prescription discount cards are usually free and accepted at participating pharmacies. The amount that you save depends on the card, the pharmacy location and the quantity and dosage of your prescription, among other factors. Prescription discount cards are not insurance and generally won't cover the entire cost of your medication.
Different Types of Prescription Discounts
Coupons and discount cards are two ways to save money when purchasing prescription medications. How do they differ? A prescription coupon is typically offered by the manufacturer of a brand-name medication. It can be used to lower the cost of the medication at the time of purchase. A prescription discount card, on the other hand, is a card that can be used at participating pharmacies to lower the cost of a wide range of medications, not just one specific brand.
In addition, manufacturer coupons usually have an expiration date. Prescription discount cards usually have less restrictions on how often they can be used. With a prescription discount card, you can typically save on many medications multiple times.
Can I Use Prescription Discounts with Insurance?
The answer is yes, you can use a prescription discount if you have insurance. However, you can't stack the savings from a discount card and insurance. You can only use one at a time.
Prescription discount cards are not insurance, and they do not replace the need for health insurance coverage. They are a way to save money when you're paying out of pocket for your prescription medications. You might opt to pay with a prescription discount card if the price with a discount card is less than your copay. However, paying with a discount card does not count toward your deductible.
If you don't have prescription drug coverage, then prescription discount cards can be helpful in helping you save money on your prescriptions.
Takeaway
Prescription drug discounts are a valuable resource available to help you pay less for prescription medications, even if you have insurance. Although you can't stack prescription discounts with insurance together, you might be able to save more with a discount card than you would with insurance.
It's important to compare your options before purchasing your prescription. Inside Rx is a prescription discount card that is accepted at nearly 60,000 participating pharmacies across the nation. You may be able to save up to 80% on your prescriptions, including brand and generic medications.