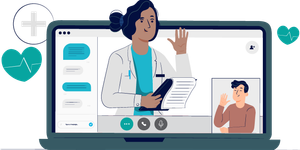 Mental Health
Using Inside Rx for a Seizure Medication Discount
01/13/2023
Seizures can severely impact a person's life in many ways. Luckily, medication has been proven to be an effective treatment for those who experience seizures. Due to the high cost of some medications, it is often that people who require these medications don't take them or ration them. Prescription discount cards like Inside Rx exist to make access to these medications more affordable so those who need them can take them properly. See how Inside Rx can provide a seizure medication discount below.
Seizures, regardless of the cause, can significantly impact someone's quality of life, both physically and mentally. The unpredictability of seizures often results in physical injuries as well as stigmatization and social exclusion, potentially leading to anxiety and depression.
Fortunately, treatment significantly lessens seizures for people with epilepsy. With proper and regular medication, most patients can stop having seizures ultimately.
However, medication can prove too costly for many, resulting in them skipping dosages or abandoning their prescription altogether. These can affect their health and make them lose control of their seizures.
Keep reading to learn how Inside Rx may be able to help you get a seizure medication discount.
Inside Rx is Here to Help
The great news is that Inside Rx is here to offer relief to those who struggle with keeping up with the costs of their seizure medication.
Inside Rx is a premier prescription savings program that offers a prescription discount card to individuals looking to save money on their prescriptions. Millions of people have already enjoyed the perks of having an Inside Rx discount card. Cardholders can save up to 80 percent on their brand and generic prescription medication with Inside Rx.
We have one of the largest networks of pharmacy partners in the United States and Puerto Rico. With over 60,000 participating drugstores in both countries, you can present your Inside Rx card nearly anywhere to get a seizure medication discount.
Here are some of the pharmacies where you can use your Inside Rx discount cards:
Walmart
Walmart is one of the largest retailers in the country, and we are proud to say that the company is our pharmacy partner. Generic seizure medications available for markdowns at Walmart are carbamazepine, oxcarbazepine, lamotrigine and topiramate.
CVS
With thousands of locations around the country, CVS is among the most popular retail chains in the United States. Present your Inside Rx card to any of their branches to possibly get discounts on seizure medications, including gabapentin, phenytoin and valproic acid.
Safeway Pharmacy
Safeway Pharmacy is known to have every medication for conditions that cause seizures. Lamotrigine, levetiracetam and zonisamide are just some generic names they carry. Just present your card and prescription at any of their locations, and you may get discounts.
Rite Aid Pharmacy
All Rite Aid Pharmacy stores accept Inside Rx discount cards. Aside from offering generics, they also carry brand-name seizure medications like Spritam® and Oxtellar®.
H-E-B Pharmacy
H-E-B is among our extensive network of participating pharmacies. Therefore, you can use your Inside Rx discount card to possibly get markdowns on the most common generic seizure medications like phenytoin, zonisamide, phenobarbital and valproic acid derivatives like Depakote®.
Other participating pharmacies include Walgreens, Giant Eagle, HyVee, Meijer, Winn Dixie and more.
FAQs on Seizure Medication Discount Cards
The rising prices of drugs are taking their toll on many Americans, forcing them to choose between buying bare-minimum needs like groceries and filling their prescriptions. However, with Inside Rx, you don't have to make that choice. We want you to live a better life and have the healing you deserve by taking your prescription medication on time.
Keep reading to know the answers to the most common questions people tend to ask about the Inside Rx discount card.
How To Get an Inside Rx Discount Card?
You can get an Inside Rx card within seconds:
Click here, and we will direct you to our website, where our system automatically generates a unique card for you.
You can print, download or request a digital copy via text or email.
Download our mobile app for access to savings right in your pocket.
Present your card at your local pharmacy to possibly receive a seizure medication discount.
Am I Eligible?
Inside Rx has discount restrictions regarding the cardholder's age and benefits. Therefore, we recommend that those interested in obtaining our card go through our guidelines first to check eligibility.
Is It Free?
Inside Rx cards are 100 percent free. There's no need for registrations, signups or renewal fees. Once you get our card, that's yours for life, and you can even share it with your family.
How Does It Work?
Inside Rx negotiates discount prices with our pharmacy partners so the end consumer can purchase their seizure medication at lower rates. Pharmacies are interested in partnering with us because lower prices encourage customers to buy, increasing store traffic and profit. As compensation for the exposure, the pharmacy pays us a small fee every time customers process their payment through our discount cards. So, everyone involved in this process is a winner!
How Much Will I Save?
With Inside Rx, you can possibly get up to an 80 percent seizure medication discount. Still, this is subject to change. Every pharmacy has different prices on the drugs they sell, so it's a good idea to compare costs before going to the store. This way, you can choose the pharmacy that fits your financial capacity.
You can use the Inside Rx app when comparing prices. It is free to download and displays all the pharmacies that carry your seizure medication in seconds.
Always Have Your Inside Rx Card Ready
Whether searching for generics or their brand-name counterparts, you can get healthy savings with Inside Rx. Therefore, always have your discount card ready whenever you need to go to the pharmacy to fill your prescription to see if you can get a seizure medication discount.
Our team is always available for your concerns. If you have questions about our offerings, visit our FAQ page and get your Inside Rx discount card today!
Sources: