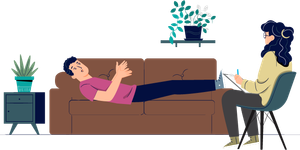 Mental Health Tips
Mental Health Month: Resources for Getting Help
05/03/2022
May is recognized as Mental Health Month, an important time to raise awareness for mental health. If you suffer from mental illness, it is imperative to get treatment. We've put together resources on finding help for treating mental illness.
The month of May is a time to reflect and promote awareness about mental health. Although the stigma surrounding mental illness has waned over the years, many people with mental illness are still not seeking treatment. Either they feel ashamed, they are not aware that they might have a problem, or they simply don't know where to start with treatment options. Fortunately, mental health month gives us an opportunity to promote awareness about mental health.
Whether you're looking for treatment, more information, or just general support, numerous resources are available for mental health. Many organizations provide resources for specific illnesses or situations.
Resources for mental health
If you or a loved one is experiencing a crisis or contemplating suicide, contact the National Suicide Prevention Lifeline toll-free at 1-800-273-TALK (8255). You can also use the Lifeline chat to connect with someone on your phone or computer. The Lifeline is available 24/7 across the United States.
Founded in 1909, Mental Health America provides education, advocacy, research, and services to promote mental health. Mental Health America is a non-profit organization and one of the leading voices that address mental health.
The National Empowerment Center provides education and advocacy. Its mission includes empowering people with mental health issues to regain control over their lives.
National Alliance on Mental Illness (NAMI)
The National Alliance on Mental Illness is a non-profit organization that offers resources to people and their loved ones who may be living with a mental illness. They provide resources for education and mental health support.
American Foundation for Suicide Prevention (AFSP)
The AFSP provides information and resources for suicide prevention. They also offer resources that help support survivors.
Postpartum Support International
The Postpartum Support International organization offers support for women undergoing emotional changes during and after pregnancy. It is geared toward helping women who may be dealing with postpartum depression.
Anxiety and Depression Association of America (ADAA)
ADAA provides information and resources that promote the diagnosis and treatment of anxiety and depression. ADAA focuses on improving patient care for people with anxiety or depression.
The International OCD Foundation offers information and resources to support people who may be living with obsessive-compulsive disorder. Their website provides information on treatment options and places to seek treatment.
National Council on Alcoholism and Drug Dependence
The National Council on Alcoholism and Drug Dependence is focused on supporting individuals who are dealing with alcoholism or drug abuse. They provide resources for services and programs to help individuals tackle different issues surrounding alcoholism and drug abuse.
Get the help you or your loved ones need
If you or your loved ones find that treatment is the best option, you might be worried about other aspects such as cost. Insurance plans generally cover the cost of treatment for mental illness, and prescription drugs for mental illness are usually available in brand and generic forms at an affordable cost. If health insurance does not cover a particular prescription drug, however, you may have to pay the full cash price.
Free prescription savings programs like Inside Rx help people access the medications they need. With an Inside Rx card, you could receive up to 80% on the cash price of generic and brand-name prescription medications for mental illnesses. You can search your medication by name and download your unique savings card for free. If you are struggling with the cost of your treatment, don't hesitate to reach out to mental health organizations and advocates who may provide patient assistance.
Mental health month provides us a special chance to break down the barriers to mental health support and treatment. With increased awareness of available resources, we can promote mental health and wellbeing, which many would argue is just as important as physical health.