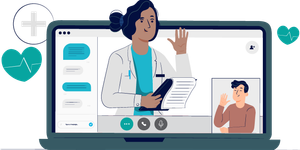 Health Tips
The Importance of Raising Mental Health Awareness
11/09/2021
When it comes to treating health conditions, people tend to think of certain aspects like maintaining their blood pressure, blood sugar levels, and cholesterol. While physical health remains an important part of wellness, mental health awareness is often overlooked. This oversight often leads to missed opportunities for getting appropriate treatment.
Mental health treatments, whether they involve medication or behavioral therapy, can save lives and relieve untold psychological suffering. Mental health influences many parts of our daily lives and keeps us going. The importance of raising mental health awareness can be a heavy subject, so let's break down some of the reasons it should be a top priority.
Mental Illness Is Common
Millions of Americans are affected by mental illness each year. Whether they are personally affected or they have a loved one who is, mental health is important to everyone. It is estimated that around 51.5 million, or 1 in 5 adults, are living with a mental illness in the United States in a given year. Even before COVID-19, mental health problems were increasing; there was an increase of 1.5 million people experiencing mental health issues from 2017 to 2018. These numbers may actually be underestimated, considering that not everyone experiencing a mental health problem may seek treatment due to different factors like social stigma and treatment accessibility.
Poor Mental Health Harms Physical Health
One major form of mental illness is depression, which affects millions of Americans every year. Researchers have found clear links between suffering from major depression and an increased risk of serious physical illness, such as diabetes and heart disease. In fact, mental illness is a major risk factor for reduced life expectancy. The average American has a life expectancy of 78.6 years, but, for someone with a severe form of mental illness, their life expectancy is as low as 49 years—a loss of up to 30 years of life.
People Are Becoming More Isolated
A consequence of the general negative view around mental illness is that those suffering from conditions like schizophrenia or anxiety disorder can easily become isolated and withdrawn. By raising mental health awareness, this isolated community can become connected to a network who will offer support and treatment options. When mental health issues are discussed openly, a space can be created where those with mental disorders can talk about their experiences and thus create greater public understanding.
Access to Treatment Is Important
Although mental disorders may affect all Americans, either directly or indirectly, not all people have equal access to treatment and services. Compounding barriers to treatment is the complexity of mental health problems, ranging from the causes and symptoms of mental illness to the various possible treatments. By promoting mental health awareness, individuals can begin assessing their own potential mental ailments and the kind of treatments that would be most effective.
Help Is Available
Many people require prescription medication to manage mental illness. While costs can be high for both insured and uninsured patients, there are savings options available, such as the discount card offered by Inside Rx.
To improve access to treatment, the Inside Rx prescription card provides a potential discount on numerous medications to those who are uninsured or underinsured. To find out whether your prescription qualifies for these savings, simply look up the medication name in the search bar at InsideRx.com—for example, escitalopram for depression or alprazolam for anxiety. Then, enter your zip code to compare prices at pharmacies near you. The Inside Rx prescription card is accepted at more than 60,000 pharmacies in the U.S. and Puerto Rico and may be able to save consumers up to 80% off brand and generic prescription medication.
Do not wait to get help during a mental health crisis. If you or someone you know is contemplating self-harm or suicide, contact the National Suicide Prevention Lifeline at 800-273-8255. A trained professional who cares is only one phone call away.