Prescription Savings
How to Find the Most Affordable Pharmacies in New York
06/02/2023
There are many options available when it comes to choosing a pharmacy in New York. You are probably looking for a pharmacy at suits all of your needs, including offering low prices on prescription medication. To help you find the most affordable pharmacies in New York, we've put together some tips.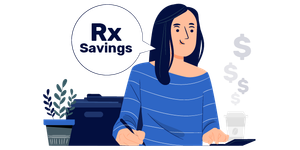 New York can be an expensive place to live, but finding affordable medications doesn't have to be a struggle. With almost 20 million people in the state of New York, it's not hard to find an abundance of local pharmacies. Whether it's a big-box, chain pharmacy or an independent one, there are plenty of options for getting the medications you need.
Still, medications can be expensive for many people. Fortunately, there are different ways to find the most affordable pharmacies in New York. If you're looking for the most affordable pharmacies in the Big Apple, keep reading.
Do Some Market Research
First, you'll want to do a little research and get a general idea about New York pharmacies. Check out sites like Yelp for reviews from real people. You can also use Google Maps to find nearby pharmacies that accept your insurance plan or have good prices on certain medications that you take regularly.
Visit local health centers or local pharmacies in New York City or other nearby cities where there are many options available for prescriptions and over-the-counter medications alike. If possible, check out more than one pharmacy before purchasing any medication so that you can compare prices on brand-name and generic drugs.
Choosing the Right Pharmacies in New York
There are different ways to choose the right pharmacies in New York. For example, you can get a referral and ask your friends or family members about their experience with different pharmacies. If you or your family lives with any chronic medical conditions, finding the right pharmacy is especially important. You may even want to consult with your doctor about which pharmacies they recommend.
When finding the most affordable pharmacies in New York, you'll want to take different factors into account. These factors include:
1. Customer Service
It's important to consider whether each pharmacy offers a similar level of customer service. When you need help from a pharmacist or pharmacy technician, are they friendly? Are there long wait times? Are the staff courteous? Do they make time for customers who need assistance with managing their prescriptions or insurance claims? Consider whether both pharmacies offer online ordering services (if so, ask yourself which one is more convenient).
2. Location
Where are the pharmacies located in relation to where you live or work? If you work near two different chains of stores, ask yourself if one location is easier for you to get to than another. Also, consider how close each store is to your home or office as well as any other places (i.e., grocery stores) that might be part of your daily routine.
3. Cost
Cost is a major factor when looking for the right pharmacy in New York. If you need to fill multiple prescriptions each month, it can add up quickly. Different pharmacies may offer different prices for the same medication, so it's important to shop around and compare prices. In addition, some pharmacies may offer discount programs or coupons that can help lower your out-of-pocket costs.
Compare Pharmacy Prices Online
You may be surprised to find that the pharmacies closest to you might not be the cheapest. Online search tools can help you find the best prescription drug prices at local pharmacies.
Inside Rx allows you to enter the name of the drug you're looking for and compare prices at different pharmacies. You can pull up a list of participating pharmacies in New York that sell the drug and then compare prices to pick the best option that fits your budget.
Takeaway
Finding a reliable pharmacy can be difficult in New York, but with a little research, you'll be on your way to finding the best and most affordable pharmacies in the area. By considering factors such as location, pricing and services offered, you can make the right decision on where to fill your prescriptions in New York. Other considerations may include the pharmacy's hours of operation, customer service and the availability of certain medications.
You can also save on your prescriptions by using a free Inside Rx savings card. An Inside Rx card is one of the easiest ways to save on your prescriptions, and it can be used at nearly 60,000 participating pharmacies across the country. Simply show the card at your pharmacy to get the current lowest price. You could save up to 80% on your brand and generic medications with Inside Rx. Download your card today to start saving!