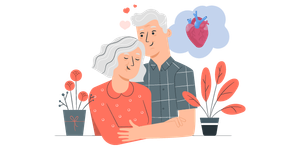 Heart Disease
Heart Disease Medication: Why It's Important and How to Save
01/16/2023
Heart disease is one of the leading killers in America. Fortunately, it is manageable with medication. While medication can be costly when taken for long periods of time, there are ways to save. Read on to learn more about heart disease medication including why it's important and how to save.
There are several types of cardiovascular diseases (CVDs). Also referred to collectively as just "heart disease," these conditions affect the heart and the blood vessels. Treatment depends on the type of heart disease, but in many cases, it involves medication.
Heart disease medication can become costly for those who require it. Luckily, there are discount cards available to help reduce the cost of prescription heart disease, and other, medications.
Heart Disease Medication and Why It's Important
More than half of all adults in the U.S. have at least one form of heart disease. According to the Centers for Disease Control and Prevention (CDC), ischemic heart disease and cerebrovascular diseases, such as strokes, are among the leading causes of death in the U.S.
Many people with heart disease need to be on medication for many years or even their entire lives. Heart disease medication helps them stay healthy and may prevent complications such as heart attack or stroke.
Types of Heart Disease Medication
If you are diagnosed with heart disease, your doctor may prescribe you medication as treatment. The type of medication you're prescribed depends on the specific kind of heart disease you have. The following are some examples of commonly prescribed heart disease medication:
Anticoagulants or Blood Thinners
Ischaemic strokes occur when a blood clot formed in a narrowed artery blocks blood flow to the heart and brain. Anticoagulants help prevent blood clots from forming, although they might not be able to dissolve existing blood clots.
Some examples of anticoagulants are:
Antiplatelet Agents
Like anticoagulants, antiplatelet agents help keep blood clots from forming by preventing platelets from clumping together. Your doctor may prescribe this if you have a history of the following:
Ischemic stroke
Transient ischemic attacks (TIAs)
Heart attack
Other forms of CVDs
Antiplatelet agents may also be prescribed if you have unstable angina. This is a condition in which fatty deposits in your arteries have caused them to narrow, resulting in reduced blood flow to your heart is red.
Dual Antiplatelet Therapy (DAPT)
Another treatment to prevent blood clots, dual antiplatelet therapy (DAPT), involves two antiplatelet agents: Aspirin and a P2Y12 inhibitor. DAPT may be prescribed for a duration of anywhere between a month or two to several years. Even after DAPT has been completed, many people with coronary artery disease will need to take aspirin for the rest of their lives.
DAPT is a commonly prescribed treatment for people who:
Have had one or more heart attacks.
Have stents in their coronary arteries.
Have gone through coronary artery bypass graft surgery (CABG).
Angiotensin-Converting Enzyme (ACE) Inhibitors
Hypertension or high blood pressure increases your risk of heart disease, stroke and other CVDs. For this reason, many doctors prescribe ACE inhibitors to address hypertension and thus help reduce the chances of developing these conditions.
ACE inhibitors expand blood vessels, allowing blood to flow more easily. This helps reduce the strain on your heart, helping it work more efficiently.
Some examples of ACE Inhibitors are:
Other Medications for Heart Disease
The above is not an exhaustive list, as your doctor may prescribe other medication types to treat your condition, such as beta-blockers and digitalis. You may also need to take additional medication to address high cholesterol levels, abnormal heart rhythms, chest pain and other conditions or symptoms linked to your heart disease. Consult your doctor for the best treatment plan for you.
What Could Happen If You Don't Take Your Heart Disease Medication
Some people don't want to take their medication because they fear the side effects, while others worry about the cost of prescription drugs. However, it's critical not to stop taking your heart disease medication suddenly or without the approval of your physician.
Stopping your medication can increase your risk of heart attacks, stroke and death. Even if you think you feel better and even if you've adopted a healthier lifestyle, do not stop taking your medication. Otherwise, your symptoms may worsen, and you may need more care and treatment later.
The High Cost of Heart Disease Medication: An Obstacle to Treatment
Sadly, even though the importance of medication to heart disease treatment is well established, not everyone with CVDs takes medication regularly or at the correct dose. A significant hurdle is the cost of these drugs.
A study published in the medical journal Circulation, showed that about one in eight Americans with heart disease delay buying their medication, ration their pills and even take doses lower than prescribed because it's too expensive.
If this is also the case for you, talk to your provider about switching to generic, lower-cost versions of your medicines. To potentially get an even better heart disease medication discount, consider using a prescription savings card, like the one offered by Inside Rx.
Save Up to 80 Percent on Heart Disease Medication
Inside Rx is a savings card that helps you get the lowest price on not just your heart disease medication but your other prescriptions as well. On average, Inside Rx discount card users save up to 80 percent off the price of your brand or generic medications. Best of all, it's free to download and use.
How To Use the Inside Rx Savings Card To Get a Heart Disease Medication Discount
Anyone can start saving using the Inside Rx discount card, even those who are uninsured or underinsured.
First, check our discount restrictions list to determine eligibility for your medication. You'll be happy to know that only a very few medications are on our restrictions list.
Using the search function on our website or the app, look up your specific heart disease medication(s) to see how much you may be able to save. Enter your zip code to compare prices at the pharmacies nearest you.
Once you've found the one offering the best price, it's time to get your Inside Rx card! Get your Inside Rx card instantly by downloading it from our website, requesting one via text or email or downloading our mobile app via the App Store or Google Play.
Place the order for your prescription and when you pick it up, show the pharmacist your Inside Rx discount card to save!
Where To Use Your Inside Rx Discount Card
We have an extensive network of participating pharmacies–more than 60,000 in the United States and Puerto Rico. These include not just community drugstores but also major chains such as:
Walgreens
The second-largest pharmacy chain in the United States, Walgreens has more than 8,000 locations in the country, as well as some U.S. territories like Puerto Rico. Using your Inside Rx discount card at a participating Walgreens may help you save money on heart disease medication like valsartan and perindopril.
H‑E‑B Pharmacy
H-E-B Pharmacy's slogan is "Taking Care of Texans," and their locations are all within the state. You may be able to find great deals here on heart disease medication such as nifedipine, fosinopril and quinapril when you use your Inside Rx savings card.
ShopRite Pharmacy
ShopRite Pharmacies are usually located inside or beside ShopRite supermarkets. With your Inside Rx discount card, you can save on medication for heart disease, like candesartan, moexipril and propranolol, at their participating locations throughout the U.S.
Your All-Access Pass to Affordable Heart Disease Medication
Cost shouldn't be an obstacle to wellness. Try the Inside Rx card to discover the best prices on your heart disease medication today.
To learn more about the Inside Rx card and how you can use it to get a heart disease medication discount, visit our FAQ page. You can also reach out to us at questions@insiderx.com.
Sources: