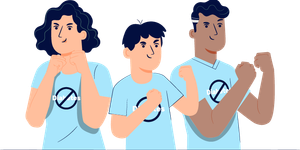 Living with Diabetes
How Do You Get Free Diabetic Supplies?
05/22/2023
If you or a loved one is living with diabetes, a common question you might have is "how do you get free diabetic supplies?". While there are limitations and restrictions to getting free supplies, there are resources available to you. Read our article below to find out more.
Diabetes is a chronic condition that affects millions of people and often requires ongoing treatment to maintain healthy blood sugar levels. A crucial part of diabetes management is access to insulin and other diabetes supplies, such as glucose meters and test strips. However, the cost of supplies can make it hard to afford the equipment needed to manage their condition.
Patient assistance programs for free diabetic supplies usually have eligibility requirements and limitations. While there are patient assistance programs that may help you get free diabetic supplies, other options could help make diabetic supplies more affordable.
You may be wondering "how do you get free diabetic supplies?" Continue reading to find this answer and learn about other options that could help you save.
How Do You Get Free Diabetic Supplies?
If purchasing the right diabetes supplies is becoming a financial burden, there are many resources available to help. The first thing you can do is talk with your doctor or healthcare provider about the supplies you need and how much they will cost. Let them know that you may need help affording your supplies. They may be able to direct you toward local organizations or companies that offer free diabetic supplies for people in need.
1. Use Insurance or State Programs
Health insurance plans may help cover the cost of diabetic supplies under their pharmacy benefit or durable medical equipment (DME) section. In addition, Medicare plans and Medicaid programs may cover the cost of diabetes supplies for eligible individuals. Additionally, some states have programs that provide assistance with the cost of prescription medications and medical supplies. To find out if you're eligible for these programs, reach out to your state's Medicaid office or the Social Security Administration.
2. Check With Your Local Pharmacy
Some pharmacies may offer discounts on certain diabetic supplies, such as glucose meters or test strips. Ask your local pharmacist or pharmacy staff if they know about any savings options for diabetic supplies. They may be able to provide information about a discount program run by the pharmacy or manufacturer coupon codes that could help you save on certain supplies.
3. Watch for Online Promotions
Some manufacturers may provide free diabetic supplies through online promotions. For example, you may be able to get a free FreeStyle meter if you register for the FreeStyle Promise program. If you have private health insurance, you can get a free Contour Next One or Contour Next EZ glucose meter. If you use a particular brand of diabetic supplies, check their website to see if they offer free or discounted supplies.
4. Look for Charitable Organizations
If you have a charitable organization in your area, they might be able to help you out with some free diabetic supplies. Charitable organizations are often funded by donations and fundraising events. If you're willing to help out with these activities, they may be able to provide certain supplies for free.
5. Apply to Patient Assistance Programs
Many pharmaceutical companies offer patient assistance programs that supply free medications and supplies to people who need financial support. These programs usually require an individual to meet eligibility requirements and fill out an application form. The application usually includes information about your income, medical history and other details about your condition.
6. Try Online Medical Fundraising
Online medical fundraising is another potential option to get free diabetic supplies. You can use online medical fundraising sites like GoFundMe or Help Hope Live (HHL) to raise money for yourself or someone else who needs it. These sites are designed specifically for people who need financial assistance with their healthcare costs.
Inside Rx is Here to Help
We hope you've learned some new ideas on how to get free diabetic supplies. If you are unable to find free supplies, you may be able to save money with a prescription discount card. Inside Rx offers a discount prescription card for free, and you can use it to save up to 80% on your brand and generic diabetes medications at nearly 60,000 participating pharmacies.
Search your medication on InsideRx.com and enter your zip code to compare prices at pharmacies near you. Then, instantly download your card to start saving!