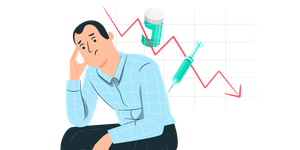 Prescription Savings
Find the Right Pharmacy Discount Programs for Your Conditions
05/18/2023
If you or a loved one is prescribed medication for multiple medical conditions, the costs of treatment can add up. Luckily, there are prescription discount programs that can help offset prescription medication costs, regardless of what condition it is. Most programs offer assistance on brand and generic medications for multiple conditions. To learn how to find the right program for your conditions' needs, read on below.
If you're living with multiple medical conditions and looking for ways to save on your medications, you're not alone. Around 40% of adults in the United States have multiple chronic conditions. For many people, prescription medications can be hard to afford. Whether you're uninsured or underinsured, there are ways to save on prescription medications.
One of the best ways to save on prescriptions is through pharmacy discount programs. You could save on the retail cost of various medications, including brand-name and generic. Read on to learn more about pharmacy discount programs and how they work.
The Cost of Medications
Prescription medications are expensive. Even with insurance, the cost of prescription medications can be a concern for many people. You may be paying high copays or coinsurance rates for certain types of prescriptions that require frequent refills. If you're uninsured, you'll have to pay even more out-of-pocket at the pharmacy than someone who has insurance.
The costs don't stop there: If you have to take medication for an extended period of time, the cost can snowball quickly. The good news is that there are a number of pharmacy discount programs that can help cover your prescription drug costs.
Pharmacy Discount Programs Can Help Save You Money
Pharmacy discount programs and prescription discount cards are not insurance, but they can help you save money on your prescriptions if you're uninsured or underinsured. These programs are offered by companies that contract with certain pharmacies to reduce retail medication costs. All you need to do is show your discount card at the pharmacy, and they will apply the discount to your purchase.
Pharmacies may offer their own discount programs, so you may want to check with them. If you use a particular pharmacy frequently, enrolling in their discount program can be an option to save. Other pharmacy discount programs offer discounts that can be redeemed at more than one pharmacy.
There Are Many Different Prescription Discount Cards Available
There are many different types of cards that offer prescription discounts. It's important to compare multiple cards before choosing one so that you can find one that offers the best value for your particular needs. For example, the Inside Rx prescription savings card can be used to save money at thousands of pharmacies nationwide. It's accepted by major drug store chains and independent pharmacies in all 50 states, including stores such as Walgreens, CVS and Rite Aid.
How Do You Choose a Discount Program?
There are many different types of discount cards available, and each one offers different levels of savings. Some pharmacy discount programs offer discounts on generic medications only, while others extend their discounts to brand-name drugs as well. Some cards also include other healthcare services, such as vision care or dental coverage.
The best way to determine which card is right for you is by comparing the benefits offered by each program with your current medical needs. You can find more information about the specific benefits offered by each program by visiting their website or calling their customer service department directly.
Things to Look Out For
Keep track of how much you're paying each month. Most programs are free. If a pharmacy discount program has high monthly payments, it may not be worth your time. Don't sign up for a plan that you can't afford to pay. You should always consider the cost of any prescriptions before buying them.
Don't sign up for a plan that doesn't cover your medications. Some plans only offer discounts on certain medications, while others are more flexible and offer discounts on most prescriptions from most pharmacies. Search your medication(s) on the program website to check for a discount before deciding to use that program.
Takeaway
We hope this guide has given you a better understanding of prescription discount programs and how they work. If you want to sign up for a prescription savings card or program and save money on your prescription medications, check out the list of options above.
The Inside Rx savings card can help you save up to 80% on prescription medications, including brand and generic drugs. You can download, print, text, or email the card and use it at nearly 60,000 pharmacies nationwide.