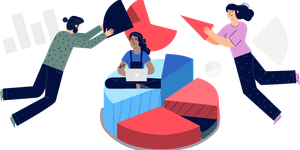 Prescription Savings
Which Prescription Discount Card is Best?
05/12/2023
A popular way to save money on high prescription medication costs is a prescription discount card. While there are many to choose from, it is important to choose the best one for you. There are several factors to consider when choosing the best card. Read on to learn more.
The cost of prescription medication can be overwhelming, especially if you have to pay full price or out-of-pocket. Many people turn to cost-saving resources, like a prescription discount card in an attempt to save money on their medications, but which one should you choose?
Dealing With the High Cost of Prescription Medication
Prescription medications are a necessity for many people, but they can be extremely expensive. The average annual cost of prescription medication is $1,300 per year. Using a prescription discount card can help you save money on your prescriptions and may even reduce your total costs by hundreds of dollars each year. In this article, we'll discuss some top companies and compare them based on their features.
ScriptSave WellRx
ScriptSave WellRx is a free prescription savings card that can save you up to an average of 60% on your prescriptions. ScriptSave WellRx is accepted at over 65,000 pharmacies nationwide, including Walgreens and CVS. The price of many prescription medications, including brand and generics, may be reduced with this option, but the exact amount of discounts may vary.
There are no restrictions on how many prescriptions you can fill at once or how much you can save each month. You only need one ScriptSave WellRx card per household and it does not expire.
Inside Rx
Inside Rx is a discount card that offers savings of up to 80% on brand and generic medications. You can download the discount card instantly through the website, or use the mobile app to retrieve the discount card on your phone. No membership fees or annual renewal fees are required.
Inside Rx partners with nearly 60,000 pharmacies nationwide, including major chains like CVS and Walgreens Pharmacy, allowing you to save at your favorite pharmacies. There are no limits to how many times you can get discounts. In addition, Inside Rx can also help you save on vaccines or even medications for your pet](/pets).
GoodRx
GoodRx is a prescription drug discount card that claims to offer up to 80% off at more than 70,000 pharmacies across the United States, Puerto Rico and the U.S. Virgin Islands. No membership sign-up is necessary. However, GoodRx offers a paid membership that may help save you more than the regular, free discount card.
Discounts can vary and fluctuate based on demand and availability. Users may save up to 80% on their prescription medications. The discount program is available to everyone, including those without insurance, and a free mobile app for Android and iPhone users is available for convenience.
SingleCare
SingleCare is a prescription discount card that allows you to save up to 80% on your medication at over 35,000 participating pharmacies. You can search for your prescription medication on the website or app to compare prices at your nearest pharmacies. A SingleCare card or coupon can be downloaded or printed from the app or website for convenience.
Once you have the discount card or coupon in hand, simply show it at checkout when purchasing your medications. The card has no restrictions, so you can use it at any participating pharmacy as much as you'd like. Plus, the card is completely free to use.
Blink Health
Blink Health offers a prescription discount program that offers you savings on your prescription medications. According to Blink Health, you can save up to 80% on 15,000 medications at participating pharmacies through their program.
You can pay for your prescription through Blink Health and then pick up your prescription at a local pharmacy or opt for their home-delivery service. Blink Health's price-match guarantee means that if you find the same medication at a lower price somewhere else, they'll match it. They also offer free shipping and handling with every order, so there's no cost for shipping or handling when you buy from them.
Which Is the Best Prescription Discount Card?
Choosing the best prescription discount card will depend on your specific needs, the pharmacy you go to and the medications you take. It's important to do your research and compare the options available to find one that offers the best discounts on the drugs you need. Some popular options include Inside Rx, SingleCare, GoodRx, Blink Health and more, all of which can offer significant savings on brand and generic medications.
Always check to see if there is a discount card available for the specific drug you are interested in. That way, you may be able to save money on your prescription medications the next time you go to your local pharmacy.