Health Tips for Women
What Will Happen When the COVID-19 Public Health Emergency Ends?
05/02/2023
It has been announced that the COVID-19 public health emergency is set to end on May 11, 2023. You may be wondering what this means for you, including vaccine and treatment costs and availability.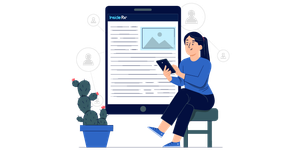 The federal government announced it would be ending the national public health emergency (PHE) declarations related to the COVID-19 pandemic on May 11, 2023. Since the beginning of the pandemic, the COVID-19 public health emergency has allowed the federal government to modify certain requirements in healthcare programs and insurance coverage, among other things.
So, what do these changes mean for you as a health consumer? For example, you might be wondering whether you'll still have covered access to testing kits or vaccinations. Here we'll discuss a few of the potential changes that might affect you once the COVID-19 public health emergency declarations expire.
COVID-19 treatments and vaccines
With the end of the public health emergency, there could be changes in coverage and costs for COVID-19 treatments and vaccines. Consumers should be aware of changes in insurance coverage and out-of-pocket expenses for these services.
In general, access to vaccines and treatments will not be affected. However, coverage for these items will start to shift toward traditional coverage from an insurance plan. In other words, coverage will be determined by your health insurance plan's policy, in which your plan may require that you pay certain out-of-pocket costs.
Medicaid patients will be able to access treatments and vaccines with full coverage until September 30, 2024. After this date, coverage by Medicaid will vary depending on the state.
COVID-19 testing
When it comes to getting tested in a laboratory setting or through over-the-counter (OTC) test kits, private insurance companies will no longer be required to front all the costs. Therefore, if you're covered under a private insurance plan, you may be responsible for a copay or coinsurance amount if they choose not to continue covering all costs.
If you have Medicare coverage, you may be completely covered for laboratory testing under Medicare Part B, but you'll no longer receive free access to OTC test kits. On the other hand, Medicaid patients will receive complete coverage without having to pay out-of-pocket costs at least until September 30, 2024.
Telehealth services Telehealth has played a significant role during the pandemic, providing access to healthcare services while minimizing the risk of infection. During the pandemic, many insurers expanded coverage for telehealth services to ensure that patients could receive care without leaving their homes. However, once the COVID-19 public health emergency ends, insurance plans may no longer be required to cover telehealth services at the same level. You may want to check with your insurance plan about potential changes to telehealth access and coverage.
For people with Medicare or Medicaid, the end of the PHE may not have much of an impact on the availability of telehealth services. This should be helpful for people who rely on telehealth services for ongoing care, especially those who live in rural or remote areas where in-person care may not be readily available.
Inside Rx is Here to Help During and After the COVID-19 Public Health Emergency
Although testing, treatments and vaccinations will continue to be available, you may need to check with your health insurance plan to see what will be covered and what your out-of-pocket costs will look like. In addition, the availability of vaccination and testing may vary by state. If you're looking for vaccinations and testing, check with your local health departments to see where you can access them, especially if you're covered under a government-funded program like Medicare or Medicaid.
Most people may be affected by the new changes, so it's important to stay up-to-date on how these changes could affect you. While the end of the COVID-19 public health emergency may bring about changes in healthcare access and coverage, that doesn't mean you don't have options.
If coverage and costs become a burden, you may be interested in ways to save on other costs, such as prescription drugs. With an Inside Rx discount card, you may be able to save up to 80% on treatments, including prescription medications, and preventative measures, such as vaccines. You can print or instantly download the card and use it at nearly 60,000 participating pharmacies across the nation. Plus, there's no limit to how often you can use it. Download your card to start saving today!