Living with Diabetes
Using the Ozempic Pen to Treat Diabetes
07/04/2023
If you are living with type 2 diabetes, you may be prescribed an injectable, like the Ozempic pen to treat your diabetes.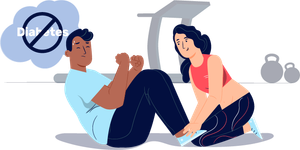 Ozempic, also known as semaglutide, is an injectable prescription medication used to help manage blood sugar levels in adults with type 2 diabetes. Using Ozempic alongside a healthy diet and regular exercise may help reduce the risk of diabetes complications, such as nerve damage, heart disease and vision problems.
The Ozempic pen is a convenient and easy-to-use formulation that allows individuals to self-administer their weekly doses. It comes as a prefilled, disposable, single-patient-use device that comes in various dose configurations. Read on to learn more about how to use the Ozempic pen to treat diabetes.
How to Use Ozempic
If you've been prescribed Ozempic to treat your diabetes, your healthcare provider may provide instructions on the proper way to administer the drug. To use the Ozempic pen, you can start by checking the medicine inside the pen to ensure it is clear and colorless. You can attach a new needle by tearing off the paper tab and securing the needle tightly onto the pen.
With each new pen, check the Ozempic flow by turning the dose selector until the dose counter presents the flow check symbol. Press and hold the dose button until the counter displays 0, and confirm a drop appears at the needle tip.
Inject Ozempic once a week, on the same day. You can take it any time of day, with or without food. Ozempic should be injected subcutaneously (beneath the skin) in the abdomen, thigh or upper arm areas. Be sure to avoid injecting it into a muscle or vein. You should also remember to change or rotate the injection site with each dose.
Ozempic Pen Dosing Schedule
Ozempic is a medication taken once a week to help lower blood sugar levels in adults with type 2 diabetes. The dosing schedule begins with a starting dose of 0.25 mg once a week for the first four weeks, followed by an increase to higher doses as prescribed by a healthcare provider. The maximum dosage is 2 mg per week.
When using the Ozempic pen, it is important to follow the correct dose increments. You can make sure you administer the proper dose by carefully dialing the pen to the prescribed dose before injecting. The 0.25 mg or 0.5 mg doses are delivered using a 3 mL pen, whereas the 1 mg and 2 mg doses may be delivered with a different pen, according to the manufacturer.
Potential Side Effects to Watch Out For
Ozempic may come with potential side effects. Some side effects are more common than others and can vary in severity. The most common side effects of Ozempic may include:
Nausea
Vomiting
Diarrhea
Abdominal pain
Constipation
These side effects are reported by around 15% to 20% of people using the 0.5 mg weekly dosage. However, common side effects typically resolve over time as the body adjusts to the drug.
In addition to these common side effects, there are more severe side effects that require immediate medical attention. These can include diabetic retinopathy (damaged blood vessels in the eye), gallbladder disease such as gallstones or cholecystitis (gallbladder pain and swelling). Contact your healthcare provider if you experience any side effects while using Ozempic or if side effects persist or worsen.
Other Things to Consider When Using Ozempic
You may want to keep in mind certain tips and strategies to ensure you're using the Ozempic pen appropriately. Here are some things to consider when using the Ozempic pen:
Follow your healthcare provider's instructions on whether to take Ozempic with food or other medications.
In case you miss a dose, consult your healthcare provider for guidance on when to take your next dose and avoid doubling up on the medication.
It is essential to store the Ozempic pen appropriately, keeping it at room temperature and away from sunlight, heat, and moisture.
Dispose of used needles safely in a sharps container following your healthcare provider's guidelines.
By adhering to these guidelines and being consistent with your medication, you can effectively manage your diabetes and reduce the risk of potential complications.
Saving on the Cost of Ozempic
Ozempic is a brand-name medication that can be quite expensive, especially for those without insurance coverage. However, there are options available for patients to save on the cost of this medication.
One way to potentially lower the cost of Ozempic is with an Inside Rx prescription discount card. This card may provide significant savings on prescription drugs. It can be used at nearly 60,000 pharmacies across the nation, and you may be able to save up to 80% on brand and generic medications, including those to treat diabetes.