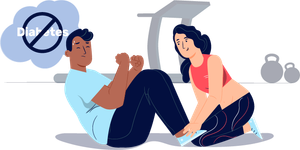 Living with Diabetes
Type 2 Diabetes Medication Discount Cards
01/09/2023
Prescription discount cards make it possible to save on expensive but necessary medications. There are a variety of discount cards out there that provide savings on brand and generic type 2 diabetes medications. Learn more about type 2 diabetes medication discount cards below.
A condition such as type 2 diabetes requires patients to maintain a prescription to effectively manage the condition and prevent other complications. Failure to take the prescribed medication regularly could lead to irreversible health damage. Unfortunately, medicine can be expensive, especially for those purchasing brand-name drugs. This can cause individuals with diabetes to skip dosages or abandon their medication altogether, putting their health at extreme risk.
There are some ways to save on prescription medication costs, including type 2 diabetes medication discounts by way of prescription discount cards.
How and Where to Use Discount Cards
Prescription savings programs, like the one offered by Inside Rx, provide discount cards so patients can buy their medicine at lower costs. Cardholders can present their cards at any participating pharmacy and enjoy discounts on thousands of generic and brand-name medications.
Inside Rx has one of the largest networks of pharmacy partners in the nation. We have ongoing partnerships with over 60,000 drugstores in the United States and Puerto Rico, including:
Walgreens
With over 8,000 locations in America, Walgreens is undoubtedly one of the largest drugstore chains that partners with Inside Rx. Metformin and Insulin Aspart, the most common type 2 diabetes medications, can be bought at Walgreens at discounted rates.
Rite Aid Pharmacy
The Rite Aid pharmaceutical chain is among Inside Rx's long-term partners. Brand-name drugs like Amaryl® and Rybelsus® are available at any of their locations. Just present your Inside Rx card to possibly get a type 2 diabetes medication discount.
H-E-B Pharmacy
H-E-B operates at over 300 locations in Texas. This well-established company is one of Inside Rx's partner pharmacies and accepts our discount cards at any of their stores. As a result, generic type 2 diabetes medications like glimepiride, metformin and glipizide could be available at reduced prices.
CVS
CVS is the country's largest pharmaceutical company having almost 10,000 locations nationwide. It is also one of Inside Rx's enduring partners, which means our cards are accepted and processed for prescription markdowns. You can get a type 2 diabetes medication discount on metformin, Insulin Aspart and Invokana® in any CVS pharmacy.
Safeway Pharmacy
Another prominent name in the health and pharmaceutical industry is Safeway. Although the company is newer than its peers, it is steadily growing, with over 900 locations nationwide. Invokana®, Jardiance®, Tradjenta® and Onglyza® are common type 2 diabetes oral drugs that may be available for discounts at Safeway using the Inside Rx card.
Other participating pharmacies include Meijer, HyVee, Giant Eagle, Stop & Shop, Winn Dixie and many more. You can find your local drugstore in our list of pharmacy partners. If you don't see your pharmacy listed, Inside Rx may still work with them. Try searching for your medication and zip code on our home page to see if your local drugstore appears in search results. We recommend verifying first if they accept Inside Rx discount cards before going to their physical location. This way, you can avoid disappointing trips to the pharmacy.
FAQs on Type 2 Diabetes Medication Discount Cards
If you have researched discount cards before, you already know that there are many options available to you. So, how do you choose the right one?
Consider the convenience of acquiring a card and the locations they are accepted. With Inside Rx, obtaining a discount card is a breeze and is accepted nearly anywhere. Therefore, opting for an Inside Rx discount card makes it easy if you wish to cut down prescription costs.
Below, we answer the most common questions people tend to ask about our type 2 diabetes discount cards:
How To Get an Inside Rx Discount Card?
You can get an Inside Rx discount card by going to this page. Our system will automatically generate a unique card to download or print out. That's it! There are no registrations or sign-ups required.
Am I Eligible?
You may get an Inside Rx card if you have a valid prescription. However, this does not mean you are eligible for a type 2 diabetes medication discount. We have restrictions in place which have to do with the cardholder's age and insurance coverage. We recommend reading through our discount restrictions to check your eligibility. Once you confirm your status, you can use our card at any pharmacy partner.
Is It Free?
Inside Rx discount cards are completely free. Plus, you don't have to pay renewal fees since our cards are valid for a lifetime.
How Does It Work?
Being offered a discount on medicine seems too good to be true – but we make it happen. The way it works is our prescription savings program leverages bulk purchasing to negotiate discounts on the average wholesale price for consumers.
When you present your card at your local pharmacy, they will process the transaction using the discount card information allowing you to pay a reduced cash price. In every transaction, we get a fee from the pharmacy. Pharmaceutical companies are willing to work with us on this because lower prices encourage customers to return and fill prescriptions rather than abandon them. This means more foot traffic and sales for their business. In the end, everyone benefits through prescription discount cards.
How Much Will I Save?
Inside Rx cardholders can get up to 80 percent off their brand and generic prescription medications at any of our participating pharmacies. However, each drugstore offers different prices. Therefore, we recommend comparing drug prices using our website or mobile app. Just enter the name of the medication you wish to purchase and your zip code, and our system will pull up all drug stores nearby that sell it. We'll also displays prices and discounts, making it easy to select the pharmacy that has the best price nearest you.
Enjoy Healthy Savings With Inside Rx
Have your Inside Rx card ready on your next trip to the drugstore. Ever since starting the program, millions of people have enjoyed our discount cards' benefits. We believe everyone should have access to affordable medication, and that's why we're here to reduce your out-of-pocket costs. In addition, Inside Rx cards can be shared with the whole family, including pets, so everyone has a fair chance to live a healthy life.
If you have any questions about our offerings, we're here to help. You can email us at questions@insiderx.com or call us at 800-722-8979.
Get an Inside Rx discount card today!
Sources: