Health Tips for Women
Taking Wegovy for Weight Loss
06/27/2023
Wegovy is a popular prescription medication that is FDA approved to help with weight loss. If you were recently prescribed Wegovy or are interested in asking your doctor about it, we've put together the below article to help you learn more about taking Wegovy for weight loss.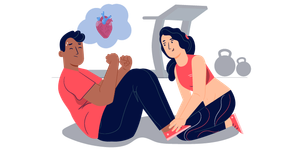 The FDA approval of Wegovy as a weight-loss medication has sparked interest in people who may be struggling with excess weight and looking for the right treatment. The injectable medicine, known by the generic name semaglutide, has been approved for use in individuals aged 12 years and older who are obese or overweight with one or more weight-related medical conditions.
Wegovy is classified as a GLP-1 receptor agonist that works by mimicking the action of the hormone GLP-1, which is responsible for regulating appetite. For many people, Wegovy may be a more attractive weight-loss treatment option than others for its once-weekly dosing. However, costs, potential side effects and proper administration are some things to consider.
Continue reading to learn more about Wegovy and how to take it for weight loss.
Is Wegovy Effective for Weight Loss?
Semaglutide, the active ingredient in Wegovy, was originally developed to manage high blood sugar levels in people with type 2 diabetes. However, researchers found that weight loss was a significant side effect of semaglutide when used for diabetes. Compared to Ozempic, the FDA-approved, brand-name version of semaglutide used to treat diabetes, Wegovy contains a higher dose of semaglutide.
Studies have shown that Wegovy can be an effective treatment for weight loss. Patients taking Wegovy, alongside a low-calorie diet and exercise, have experienced significant weight loss. In one study, after 68 weeks, 83% of adults taking Wegovy lost 5% or more of their weight, compared to 31% of adults taking a placebo. The average weight loss in patients taking Wegovy was 15% of their body weight, or around 35 pounds.
Wegovy works best when used with a healthy diet and exercise plan. This plan should include eating a balanced diet and exercising regularly. Wegovy is designed to be used for chronic weight management. Therefore, you could gain back the weight you lost after discontinuing the medication.
How to Take Wegovy for Weight Loss
If you're looking to get optimal weight loss results, taking Wegovy correctly is important. Wegovy is supplied as a single-use, prefilled pen that contains a solution that is injected once per week.
Wegovy is typically started at a low dosage, which is increased in weekly intervals until a dosage of 2.4 mg per week is reached. Consult your healthcare provider for the proper dosage and administration of Wegovy before using the medication. Your healthcare provider may provide instructions on how to properly administer the drug.
This prescription medication is injected once per week under the skin of the stomach, upper thigh or upper arm. Properly administering the drug can help make sure the benefits of Wegovy are maximized while reducing the risk of potential side effects.
Here are some tips on how to use Wegovy properly:
Choose a consistent day each week for the injection
Inject Wegovy any time of the day, with or without food
Rotate the injection site between the stomach, upper thigh or upper arm to avoid skin irritation
Follow the prescribed dosing schedule, increasing the dosage as instructed by your healthcare provider
Properly dispose of used Wegovy pens, following local regulations for disposing of medical waste
Potential Side Effects of Wegovy
As with any medication, Wegovy may have potential side effects. Some common side effects of Wegovy include:
Nausea
Diarrhea
Vomiting
Constipation
Headache
Fatigue
Upset stomach
Dizziness
Heartburn
Runny nose or sore throat
Serious side effects are also possible while taking Wegovy. These may include hypoglycemia (low blood sugar) and symptoms such as dizziness, sweating, confusion and weakness. Other serious side effects may include an increased risk of thyroid cancer, inflammation of the pancreas, gallbladder problems, kidney problems and serious allergic reactions. Consult a healthcare provider for other possible side effects and precautions before using Wegovy.
Managing the Cost of Wegovy
Wegovy is a brand-name drug that can be expensive, particularly for those without insurance coverage. There is currently no generic low-cost alternative to Wegovy. The cost without insurance could reach up to $1,350 or more per month.
Despite the high costs of Wegovy, several savings options may be available. The manufacturer of Wegovy may offer a savings program for commercially-insured and cash-paying customers. In addition, Inside Rx provides a prescription discount card that may help lower the retail cost of Wegovy.
The Inside Rx discount card can be used at nearly 60,000 participating pharmacies across the nation. There's no limit to how often it can be used, and your entire family can benefit from savings on brand and generic medications. Simply download or print the card and present it at your local pharmacy to save up to 80% off brand and generic prescription medications. Some people may find they save more with an Inside Rx card than with other options.