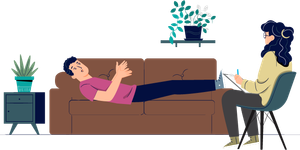 Mental Health Tips
What is Seasonal Depression and Can it be Treated with Medication?
04/20/2021
Seasonal depression, otherwise known as seasonal affective disorder (SAD), is a type of depression that can develop during certain times of the year.
Seasonal depression is often associated with the "winter blues", in which a lack of sunlight during winter triggers depressive symptoms in some people. However, individuals with seasonal depression may feel a change in mood during any season, including spring and summer.
It's often normal to feel a little bit down during fall or winter for a number of reasons. When symptoms become more severe and start to affect daily life, seasonal depression may be coming into play. This type of depression can be a serious mental health concern and can often be treated with lifestyle changes and medication.
What causes seasonal depression?
Seasonal affective disorder is believed to be caused by biochemical imbalances. Researchers suggest that there are reduced levels and activity of serotonin in the brain, which can be affected by sunlight. Serotonin is an important neurotransmitter that is responsible for regulating mood and emotions.
Some people with seasonal affective disorder may produce too much melatonin, a hormone that is responsible for regulating sleep cycles. The combination of too little serotonin and too much melatonin can disrupt the body's natural circadian rhythm, which could lead to mood and behavioral changes.
Those with seasonal affective disorder may also be deficient in vitamin D. Vitamin D is naturally produced by the body when exposed to sunlight, and it is believed to promote serotonin activity. Without enough vitamin D, symptoms of seasonal depression may worsen.
What are the symptoms of seasonal depression?
Symptoms of seasonal depression are similar to those of major depression. Symptoms can range from mild to severe. These symptoms may include:
Feelings of sadness
Loss of interest in hobbies that were previously enjoyed
Changes in sleep
Increased or decreased appetite
Fatigue
Weakness
Feelings of guilt or worthlessness
Difficulty concentrating or thinking
Suicidal thoughts or behaviors
If you are experiencing severe depression or suicidal thoughts, contact your healthcare provider immediately or go to the nearest emergency room. You can also call the National Suicide Prevention Lifeline at 800-273-TALK (8255).
Can seasonal depression be treated with medication?
Seasonal depression is typically treated with a combination of medication and other non-pharmacological therapies. Treatment for seasonal depression may include: Psychotherapy
Cognitive and behavioral therapy may help a person understand what they are feeling. A therapist or provider can work with a person to identify any stressors or triggers that may be worsening depressive symptoms.
Sun exposure
Sitting out in the sun or near a well-lit window may help alleviate symptoms of depression.
Light therapy
If you're not able to increase your exposure to sunlight, you may be able to use light therapy or bright light therapy. Getting exposure to real or artificial light at certain periods of the day may help relieve symptoms.
Medication
Antidepressants are commonly prescribed for people with any type of depression. Antidepressants often include selective serotonin reuptake inhibitors (SSRIs), such as citalopram and FLUoxetine, and serotonin-norepinephrine reuptake inhibitors (SNRIs), such as DULoxetine and desvenlafaxine, among others. These medications can help increase the activity of serotonin in the brain to help improve mood and fix the chemical imbalances in the brain.
Getting treatment for seasonal depression
It's important to see a healthcare provider if you believe you're experiencing seasonal depression. A healthcare provider can help get you the treatment you need and prescribe any medications that can help relieve symptoms. That way you can cope during seasonal changes.
If your doctor prescribes you an antidepressant to help with your seasonal depression, you might be able to save on your medication using Inside Rx. Inside Rx is a prescription discount card for the underinsured and uninsured that may help save money on prescription medications. Inside Rx has a search tool on their website to help you find affordable prices of your medications at pharmacies near you. Simply go to insiderx.com, type your medication in the search bar, enter your zip code and compare prices in your neighborhood. You can then download your unique Inside Rx savings card, which can be used at over 60,000 pharmacies across the U.S. and Puerto Rico. See if you can save up to 80% on brand and generic medications using Inside Rx.
Find out more by visiting our FAQ page.