Mental Health Tips
Prioritizing Minority Mental Health Awareness
07/25/2023
Every July, we recognize minority mental health awareness month. At Inside Rx, we aim to help raise awareness of this topic, and provide access to savings on mental health medications for those in need.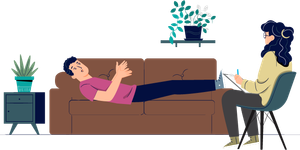 Mental health is a key part of our overall health that includes our emotions, thoughts and social well-being. It affects how we think, feel and behave and it helps shape the quality of our relationships, how we perform at work and how well we might handle stress. However, for many racial and ethnic minority groups in the United States, various obstacles may prevent them from getting the right treatment.
In 2021, it was estimated that only 39% of Black or African American adults, 25% of Asian adults and 36% of Hispanic/Latino adults with any mental illness received treatment, compared to 52% of non-Hispanic white adults. July is minority mental health awareness month, and during this month, we can recognize and increase awareness of the disparities in minority mental health treatment.
Read on to learn more about how you can help prioritize minority mental health awareness this month.
Barriers to Mental Health Treatment in Minority Groups
Different obstacles can keep minority groups from getting the mental health treatment they need. For example, individuals from minority groups might not reach out for help with mental health problems due to stigma, discrimination or societal prejudice. Also, cultural differences may lead to confusion about mental health, which might make minority groups hesitant to use mental health services.
Another problem that minority groups face is not having enough access to mental health services. Along with not having health insurance or not having enough insurance, minority groups might not have the same access to mental health care as others, and the care they receive may not be as good as it is for the general population.
Biases among mental health providers may often make the problem worse. Healthcare providers might not fully understand the mental health needs of different racial and ethnic groups. Implicit bias can add to a serious problem for mental health in minority populations.
How to Raise Awareness About Minority Mental Health
Minority Mental Health Awareness Month continues to help raise awareness every July. This annual event may help people better understand the mental health challenges that different racial and ethnic groups in the United States may be living with. Both individuals and organizations can work together to raise awareness about minority mental health during this time.
One major part of raising awareness about minority mental health is overcoming the stigma that often exists around mental health problems in different communities. A negative stigma can prevent people from getting treatment and spread myths about mental illness. Here are some ways we can help support mental health awareness, especially for minority groups:
Share personal stories, experiences and resources on social media platforms to encourage others to open up about their mental health challenges.
Support to friends and family members who may be struggling with mental health issues.
Get involved with community groups, schools and cultural centers to push for more conversations about mental health and set up related events.
Educate yourself and others about the mental health challenges and disparities that affect minority communities.
Connect with mental health professionals who are aware of and sensitive to cultural and racial differences.
Advocate for improved access to quality mental health care and resources for minority communities.
These are just some of the ways to raise awareness about minority mental health. Raising awareness about minority mental health may help encourage people to get the treatment they might not otherwise seek.
Inside Rx Is Here to Help
Minority groups might not only have limited access to seeing a mental health professional but also struggle with paying for medications. One option to help lessen the cost of medication is using a prescription discount card.
With a savings card from Inside Rx, people can save up to 80% on both brand and generic prescription medications. You can use the savings card at nearly 60,000 participating pharmacies nationwide. You can download it, print it or download the mobile app to show the card at the pharmacy and save on medicines for you and your whole family.
Search your medication and see if you can start saving on mental health medications today.