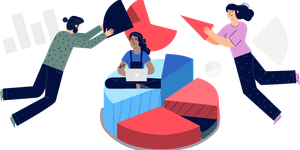 Prescription Savings
How to Determine if My Medication is Eligible for a Prescription Discount
03/09/2021
Paying for prescription drugs can be difficult, especially if you don't have insurance coverage. Even if you do have prescription coverage, there are still many ways to save on prescription drugs. Many people with or without insurance coverage are usually eligible for a prescription discount. However, there are some caveats to consider.
Medicare Part D coverage and manufacturer discounts
If you have Medicare Part D prescription drug coverage, you are entitled to use a prescription drug discount card or coupon if these savings options help you purchase your prescription at a lower price than with your Medicare Part D plan. Some pharmacies offer discounts directly to their patients, and these discounts can be used instead of Medicare Part D coverage. You may need to discuss these savings options with your pharmacist before purchasing your prescription.
One thing to note is that you can't combine any drug discount cards or coupons with Medicare Part D coverage to get added savings. You can only use one or the other.
Some drug manufacturers offer manufacturer coupons to get a discount on their brand-name drugs. However, these manufacturer coupons can't be used if you are eligible for Medicare. This restriction is based on federal anti-kickback laws.
Some pharmaceutical companies offer patient assistance programs to eligible patients in need. But, patients who have Medicare coverage may or may not be eligible to receive patient assistance from pharmaceutical companies. In order to be eligible for some patient assistance programs, patients must not have private or public prescription coverage.
Prescription discount programs
Check with state and national discount programs for prescriptions to see if you qualify for discount cards that are provided by some pharmaceutical companies. The Partnership for Prescription Assistance program helps eligible patients get the medications they need through their assistance program. Contact these organizations directly for more information.
Other organizations that provide assistance include:
The Mental Health America Resource Center: They provide assistance with finding state and local prescription discount programs.
Rx Hope: They're an organization that provides patient assistance for certain drugs. They act as an advocate for patients in need and offer patient assistance programs for eligible patients.
Rx Assist: They're an organization that offers a directory of patient assistance programs. They also offer information about drug discount cards, copay programs, prescription assistance, and other resources for getting free or discounted prescriptions. Contact the organization directly to see if you may be eligible for any of their programs.
Inside Rx: Inside Rx is a prescription discount card that may be able to save users up to 80% off brand and generic prescription medications at over 60,000 pharmacies in the U.S. and Puerto Rico. You can compare prices for your medications at participating pharmacies nearest you using their search tool. The card is free to download and can be instantly downloaded, texted, or emailed to yourself. They also have an app where you can store your card.
Other savings options
One easy way to save on prescription drugs is to talk with your doctor about getting a free sample for your medications or switching to a generic drug. While these methods are not exactly prescription discounts, they're a worthwhile way to get prescription drugs for free or at a lower price. Purchasing the generic alternative to your medication is a surefire way to get the medication you need at an affordable price. The generic version of a drug contains the same ingredients of the brand-name drug, but at a lower cost. You can look at it like getting the medications you need at a discount.
Find out how much you can save
If you're having to pay full price for your prescriptions, you're already paying more than you have to. It's never been easier to find convenient options to save on prescription medications. If you're uninsured or underinsured, try downloading the Inside Rx prescription discount card to see if you could be paying less than for your medications. You might be surprised what you can save with a prescription discount card.