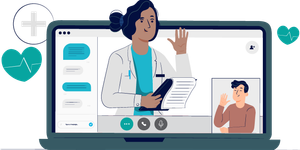 Health Tips for Women
How to Manage Obesity in Adults
02/15/2022
The majority of American adults are either overweight or obese. Losing a lot of weight quickly can be difficult for many people, but obesity in adults is best managed by losing weight gradually. Read on to learn more about how to manage obesity in adults.
Obesity in adults is linked to chronic medical conditions, including heart disease and diabetes, and, without treatment, obesity can lead to serious complications. An effective plan for managing obesity in adults includes losing weight gradually. Experts recommend a goal of reducing initial body weight by around 10 percent or losing around one to two pounds every week for six months.
More than a third of adults in the United States are obese, and another third are overweight. Losing weight can be difficult, but there are several ways to treat obesity, the most common one being diet and exercise. However, for some people, an adequate diet and exercise plan may not be enough.
Diet
Most people have tried a specific diet, whether for general health purposes or to lose weight. The usual recommendation is to eat fewer calories than you burn, and that doesn't mean just eating a diet with less fat. The National Heart, Lung, and Blood Institute recommends cutting daily calorie intake by 500 to 750 calories to lose one to one-and-a-half pounds per week. Limiting foods with added sugars and saturated fat can also help reduce caloric intake.
Exercise
Exercise can help regulate metabolism and burn calories in adults with obesity. The American Heart Association recommends getting at least 150 minutes of exercise every week. Exercises should include moderate- to high-intensity aerobic activity, such as:
Brisk walking
Biking
Swimming
Jumping rope
If you're just starting out with exercising, you can consider being more active gradually. Instead of parking close to the entrance of a store, you can park farther away and walk. Instead of taking the elevator, you can try walking up the stairs, for example.
Medication
If you've been on a diet and exercise plan and haven't seen results, your doctor may prescribe a weight-loss medication. To be eligible for weight-loss prescription medication, your body mass index (BMI) should be greater than 30. If your BMI is greater than 27 and you have obesity-related health conditions, like diabetes or high blood pressure, you may also be prescribed weight-loss medication. Weight-loss medications can help promote weight loss in combination with an effective diet and exercise plan. FDA-approved medications for weight loss include:
Xenical (orlistat)
Qsymia (phentermine-topiramate)
Saxenda (liraglutide)
Wegovy (semaglutide)
Contrave (bupropion-naltrexone)
Surgery
Obesity in adults may be treated with surgery as a last resort. Success with weight-loss surgery often involves following recommendations from a nutritionist, exercise coach, or mental healthcare expert, even after the surgery has been completed. Because surgery is an intensive weight-loss treatment, you'll have to undergo exams to assess obesity-related conditions and ensure surgery is right for you. Surgery may be an option for adults with obesity who have:
A BMI of 35 or greater
At least one obesity-related health condition
At least six months of attempting other weight-loss methods without success
Inside Rx can help you save on your prescription medications
Managing obesity involves a long-term commitment to lifestyle changes and a goal-focused, weight-loss plan. If diet and exercise are not working for you, your healthcare provider may recommend prescription medications or surgery. Prescription weight-loss medications can be expensive and may not be covered by insurance. If you don't have insurance, you may have to pay the full cash price of the medication.
Inside Rx provides a discount savings card that may be able to save up to 80% on generic and brand medications. You can search your medication to compare prices using the Inside Rx mobile app or website. Then, present your savings card at the pharmacy to receive your potential discount. You can use the Inside Rx card at over 60,000 pharmacies across the nation.
To learn more about Inside Rx, visit our FAQ page.