News
Inside Rx Now Partnering with Publix Pharmacy
05/08/2023
At Inside Rx, we are proud to partner with nearly 60,000 pharmacies in the U.S. and Puerto Rico. We are excited to announce our newest pharmacy partner, Publix Pharmacy! You can now use your Inside Rx discount card to save on prescription medications at Publix.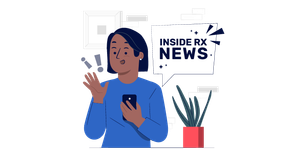 Publix Pharmacy is one of the largest and fastest-growing supermarket chains in the United States. Currently based in the Southeastern United States, Publix is a convenient and accessible option for people looking for various healthcare services, including prescription medications, vaccinations and health screenings.
At Inside Rx, we're excited to share that we are now partnering with Publix Pharmacies. What does that mean for you? With an Inside Rx prescription discount card, you may be able to access discounts of up to 80% on brand and generic medications at Publix Pharmacy locations.
Read on to learn more about this partnership and how you can take advantage of more savings on your treatment needs.
Publix Pharmacy: A Trusted Partner
Publix Pharmacy is dedicated to offering its customers high-quality services with a focus on convenience and accessibility. They provide various services, including medication refills, flu shots and health screenings, all without the need for an appointment.
Publix Pharmacy Benefits
Customers can take advantage of services like Sync Your Refills, which allows for one-trip prescription pickups. In addition, certain medications are available for free when prescribed by a doctor, making medications more affordable for those who need them. Publix Pharmacy also offers prescription delivery for homes within five miles of the store, further improving the convenience for customers.
In terms of customer satisfaction, a study by Market Force Information reveals that Publix Pharmacy ranks as a leading favorite among North American consumers. This preference stems from the high-quality services and products that the pharmacy offers, promoting trust and confidence from its patrons. Independent pharmacies, such as Publix, tend to outscore major chains in Consumer Reports ratings, earning higher scores in different aspects.
You can download the Publix Pharmacy app, which allows users to manage household prescriptions, receive refill reminders and pay ahead for a more streamlined experience. By leveraging these tools, you can manage your prescriptions and take better control of your healthcare finances.
Publix Pharmacy's expertise, combined with its commitment to personalized patient care, makes it a valuable resource for managing your health.
The Inside Rx and Publix Pharmacy Partnership
Inside Rx is a prescription discount card that can be used at various pharmacies to help reduce the cost of medications without any registration fee. Nearly 60,000 participating pharmacies accept Inside Rx cards nationwide and in Puerto Rico. It works seamlessly with Publix Pharmacy and could help you get valuable savings on all of your medications.
How to Use Inside Rx at Publix Pharmacy
To use Inside Rx at Publix Pharmacy, simply present your Inside Rx savings card to the pharmacist when picking up your prescription. The discount will be applied automatically, making the process hassle-free.
You can instantly download the Inside Rx card to access the savings card. You can also download the mobile app, text or email the card to yourself or print the card from your computer. You can then show the card to your pharmacist, who will apply the potential savings to your prescription. You could save up to 80% on brand and generic medications.
Inside Rx cannot be combined with insurance, copay cards, or any other secondary payer. As a result, expenses paid using Inside Rx may not count towards deductibles or other cost-sharing requirements. However, you may find that Inside Rx saves you more on your medications than private insurance or Medicare. Therefore, you may want to opt for the Inside Rx card instead of insurance if you find that it offers you a better price.
There's no limit to how often you can use the Inside Rx card, which you can use for your entire family, including pets!
We are excited to announce our partnership with Publix Pharmacy and look forward to saving you money on your prescriptions!