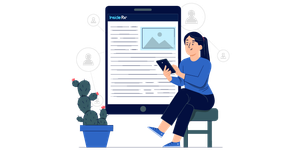 Prescription Savings
How to Get Rite Aid Prescription Coupons
05/24/2023
Love the pharmacy at Rite Aid? We can help you save money with Rite Aid prescription coupons. There are many ways that you can find prescription coupons for Rite Aid. We've explained how to get these coupons in the article below.
Rite Aid is a popular pharmacy that offers different ways to save on prescription drugs and other items. You can use various coupons and savings cards at Rite Aid to help save you money. Whether you prefer going to the store or are more of an online shopper, there are many ways to save. To help with finding Rite Aid prescription coupons, we've put together this short guide to keep track of all the places where you can find potential discounts.
Check the Website for Rite Aid Prescription Coupons
You can visit the Rite Aid website to find coupons and other discounts. The discounts may be available in the form of a digital coupon that you can print and use at your local store, or you may be able to apply it directly to your bill.
To get started, simply visit the Rite Aid website and search for your prescription drug. You should see a "Coupons" section that shows if any coupons are available for your specific medication.
Sign Up for Rite Aid Rewards
The Rite Aid Rewards program is designed to give you rewards for shopping at Rite Aid. The program is free to join and easy to use. Once you sign up, you'll start earning points every time you spend money at Rite Aid. You can then redeem those points for discounts on prescriptions and other items at Rite Aid stores. Older adults over the age of 65 can earn even more rewards and savings through this program.
Check Rite Aid BonusCash Deals
Rite Aid BonusCash Deals are available for online purchase. They also have a mobile app where you can get products at discounted prices if they are in the Bonus Cash Deals section. You can find these deals on prescription drugs and other items such as cosmetics, vitamins and health products. The BonusCash Deals section changes every week and usually consists of hundreds of items that are on sale at discounted prices.
Check Weekly Ads for Your Nearby Rite Aid Store
Another way to get Rite Aid prescription coupons is by checking the Weekly Ad section on the website. Enter your zip code to see what coupons are available and which Rite Aid stores are nearby. The website will also show you the location of your nearest store so that you can visit it directly.
Look for Coupons on Third Party Websites
A quick online search for "Rite Aid coupons" will yield several results. Some websites offer printable coupons for use at Rite Aid stores, while others provide electronic versions that can be printed or downloaded onto your smartphone. There are many websites like Coupons.com, NeedyMeds and RetailMeNot that offer digital coupons.
Get a Prescription Discount Card
A prescription discount card is a card that you can use to get discounts on your medications at Rite Aid or other participating pharmacies. This card can act as a coupon to save on the retail price of medications, including generic and brand-name drugs.
An Inside Rx prescription discount card could save you up to 80% off the cash price of your brand and generic prescription medications. You can print, text, email or download the card. There's also a mobile app available to help you compare prices at local pharmacies and find the best deals.
Not only can the Inside Rx card help you save at Rite Aid pharmacies, you can use it at any of the nearly 60,000 partnering pharmacy locations.
Takeaway
Now that you know how to get Rite Aid prescription coupons, go ahead and take advantage of them! With these discounts, you can save money on all kinds of things at Rite Aid, including over-the-counter medications and vitamins. However, one of the best ways to save is using a prescription discount card offered by Inside Rx. Download the card today to start saving!