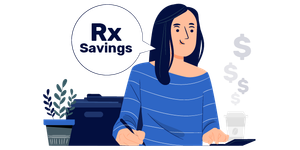 Prescription Savings
How to get Coupons for Prescription Drugs
05/15/2023
The high cost of prescription drugs is something we all have to deal with. However, you may be able to save on these costs by using coupons for prescription drugs. There are a number of ways to find these, we've listed them for you below. Read on to learn more.
We all know that prescription medications are expensive. It's no secret that prescription drugs usually cost more than over-the-counter medications, and the price can vary widely whether you have insurance or not. However, it's possible to lower the retail price of a medication through a number of different options, including prescription drug coupons. By taking advantage of coupons offered by manufacturers or other savings programs, you could reduce your medication costs by quite a bit.
Here are some tips on how you can get coupons for prescription drugs.
1. Ask Your Pharmacist for a Coupon
One of the easiest ways to get coupons for your prescriptions is to ask your doctor or pharmacist. Your healthcare provider may have information about coupons that you can use to save on your prescriptions. You can also ask your pharmacist to help you compare the price of your prescription with insurance to the cost with a savings coupon. In some cases, certain savings options may be better than others, so it's best to check.
You can ask your pharmacist if the pharmacy has its own discount program. Some pharmacy programs offer discounts on all types of medication, while others specialize in one type of medication only (such as diabetes, cholesterol or heart disease). You'll want to make sure that the program you join offers discounted prices on the medications you need before signing up for it.
2. Visit a Prescription Discount Website
There are several websites that offer discounts and coupons for prescription drugs. These sites often work with pharmacies to bring you the best prices. However, the discounts you get from one site may differ from those you get at another site, depending on the medication and the pharmacy.
You'll just want to make sure you do your research and compare the potential price savings you can get. Prescription discount cards from companies like Inside Rx allow you to print or instantly download a card, which may help you save on all your medications at participating pharmacies.
3. Check With Your Insurance Company
Some insurance companies offer prescription drug discount programs for their members. However, the prescription discount programs can vary by insurance plan. Some programs help members save on high-cost medications for which there are no alternatives. Other programs may be offered to help save on commonly prescribed medications for chronic conditions. It's important to check the eligibility requirements of the program and consult your insurance company.
4. Check for Drug Manufacturer Coupons
Many drug manufacturers offer coupons or discounts on their website, which can be used to help offset the cost of your prescription drugs. These coupons may be found online, in newspapers or magazines and sometimes even in the mail. If you've found a coupon online, print it out and bring it with you when making a purchase at the pharmacy counter. Some stores may also allow you to show them an electronic copy of the coupon.
If you have a coupon from a drug manufacturer, then you can use it at any pharmacy that accepts them. Keep in mind that manufacturer coupons help reduce the price of brand-name medications. You may want to compare the cost to that of purchasing a generic alternative.
Takeaway
So there you have it: four easy and effective ways to save money by using coupons for prescription drugs. As you can see, there is no reason to let high prescription drug costs get in the way of you taking your medication. With a little research and some smart shopping, you can enjoy the benefits of your prescriptions without breaking the bank.
If you want even more savings, be sure to check out the Inside Rx savings card. This free prescription discount card helps people like you save up to 80% off the cost of their brand or generic prescription medications. Try it out today by downloading your free savings card from the savings card page.