Oncology/Cancer Care
How to Check for Skin Cancer Signs
08/08/2023
You might not realize it, but skin cancer is one of the most common cancers, with thousands of people being diagnosed every day. Prevention is key but self-checking and annual trips to the dermatologist can help catch signs of skin cancer early. Knowing what to check for when looking for skin cancer signs is important so we broke it down for you.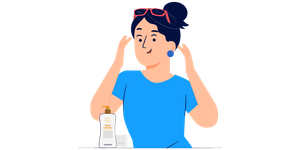 Skin cancer is a type of cancer that develops on the skin, typically due to exposure to the sun's harmful UV rays. It is the most common type of cancer in the United States, with almost 10,000 people diagnosed every day. While skin cancer can affect anyone, people with fair skin, a history of sunburns and a family history of skin cancer are usually at a higher risk.
Preventing skin cancer starts with protecting your skin from the sun. Preventive measures might include wearing protective clothing, such as long-sleeved shirts and hats and using sunscreen with an SPF of 30 or higher. Avoiding tanning beds and seeking shade during peak sun hours may also help reduce your risk. Still, you may want to regularly check your skin for skin cancer signs even while using preventive measures, as detecting skin cancer early may help in getting the right treatment.
How to Perform a Self-Exam for Skin Cancer Signs
It can sometimes be hard to recognize skin cancer signs, especially in the early stages. Many people may confuse skin cancer with another skin problem or vice versa. However, if you notice any unusual spots on your skin, you may want to stay on the safe side and consult a healthcare provider who can evaluate any skin cancer signs.
Here are some potential early warning signs of skin cancer:
Changes in the skin: Any changes in the skin, such as new growths, bumps or patches, or changes in the size, shape or color of existing moles or freckles.
Unusual moles: Moles that are asymmetrical, have irregular borders, are larger than a pencil eraser or have different colors or shades.
Sores that don't heal: Skin sores that do not heal within a few weeks can be a sign of skin cancer.
Itching or bleeding: Skin cancer may cause itching or bleeding in the affected area.
Pain or tenderness: Skin cancer may cause pain or tenderness in the affected area.
If you're concerned or at a particularly high risk of skin cancer, you can perform a regular skin self-exam to catch early signs of skin cancer.
Here's a simple step-by-step guide:
Prepare for the Exam: Find a well-lit room and use a full-length mirror along with a handheld mirror for areas that are hard to see. Make sure you have enough time and privacy to carefully check your entire body.
Examine Your Face and Neck: Using a mirror, carefully inspect your face, including your nose, mouth, eye and ears. Move to your neck and don't forget under your chin.
Inspect Your Scalp: Use a comb to part your hair and check your entire scalp. This may be easier with the help of a loved one.
Check Your Hands and Arms: Look at the front and back of your hands and arms, and don't forget to check under your nails. You can lift your arm to inspect the underarm area too.
Check Your Torso: Using the full-length mirror, check your chest and torso. Women may need to lift their breasts to check the skin underneath.
Scan Your Back and Butt: Use the handheld mirror to inspect your back, buttock and the back of your thighs.
Look at Your Legs and Feet: Sit down and inspect your legs. Pay attention to your ankles, the spaces between your toes, under your feet and even under your toenails.
If you notice any early skin cancer signs, consult a doctor or healthcare provider right away. Different signs may indicate different types of skin cancer, such as melanoma, basal cell carcinoma or squamous cell carcinoma.
Advanced Symptoms of Skin Cancer
Advanced symptoms of skin cancer may indicate that the cancer has spread beyond the skin and into other parts of the body. Some of the advanced symptoms of skin cancer may include:
Painful or swollen lymph nodes
Unexplained bone pain
Feeling tired or unwell
Loss of appetite
Yellowing of the eyes and skin (jaundice)
Headaches
Seizures
Chest pain
Not everyone with skin cancer will experience advanced symptoms, and some people may not have any symptoms at all. However, these symptoms may be a sign that the cancer has spread to other parts of the body, such as the lymph nodes, liver, lungs or bones. Consult a doctor or healthcare provider if you experience any of these symptoms, as they may require further testing and treatment.
In addition to seeing a doctor for any new or changing skin cancer signs, it is also recommended that you have a yearly skin exam. An annual exam may be especially important if you have a history of skin cancer or if you have a lot of moles or freckles. During a skin exam, a dermatologist can examine your skin from head to toe and look for any suspicious growths.
Inside Rx Is Here to Help
The cost of treatment can be a major barrier for many people with skin cancer. Fortunately, there are resources available to help make medications more affordable. With Inside Rx, individuals can save up to 80% on brand and generic prescription medications. Savings options can be especially helpful for those who require ongoing treatment for skin cancer, as the costs can quickly add up.
With nearly 60,000 participating pharmacies across the nation, the Inside Rx card is widely accepted and easy to use. Individuals can instantly download the card, print it out, or even download the mobile app to show the card at the pharmacy and save on medications for themselves and their entire family.